Reduce student loans.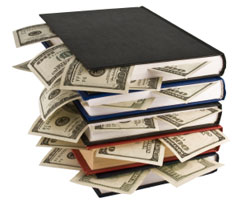 Many financial gurus call student loans 'honorable debt'. Well, honorable or not, student loans can be a long-term drag on your overall financial status and paying them off sooner rather than later will help you move to the next stages of your life as you examine home ownership, build a family, and save for retirement. None of the next steps are conceivable with the school loan albatross around your neck.
Shake off student loans as soon as you can ... so you can move on.
Understand your options
Many lenders offer the option to extend the time to pay or lower initial payments as you get started in your new job. While these may sound enticing, they are really a kind of trap that will eventually cost you more in interest over the term of the loan than you expect.
Take these options only if you really need them. Examine available options to combine your school loans into a single, lower interest rate loan, when possible. Using BudgetPulse can ensure that you don't miss payments, which is important because missed payments have a negative effect on your overall credit rating. Those negative effects can cost you when you try to negotiate a combination loan or reduced interest rate.
Get started, then put each raise to work for you
You've got the education and now the job, let's take a sharp look at how to get that student debt off your back. With BudgetPulse, you soon have a complete picture of your income and expenses and you know what payments are coming up and when they are due. Knowing these facts makes planning to pre-pay your loan much easier. Remember, with typical educational loans such as Perkins, Stafford, and PLUS loans, there are no prepayment penalties so you have nothing to lose and a lot to gain by paying the loan off early.
Once you've been at your job for awhile and you get a raise, take that raise amount and put it directly into making higher loan payments. You'll reduce the debt faster without taking a hit to your immediate budget. You'll also improve your credit rating so when you are ready for one of those next steps, it will be much more feasible than before.
As you clear away student debt, push onward
School loans do not typically carry the high interests that many credit cards do. So as you finally pay off the higher interest credit accounts, you can then focus those payment amounts toward your school loan to double and even triple the payments. Notice that with this method your budget doesn't take an additional hit as you were already spending that money toward payoffs.
At the same time, your overall debt shrinks steadily - putting you in a much better position down the road when you want to move on to the next step.