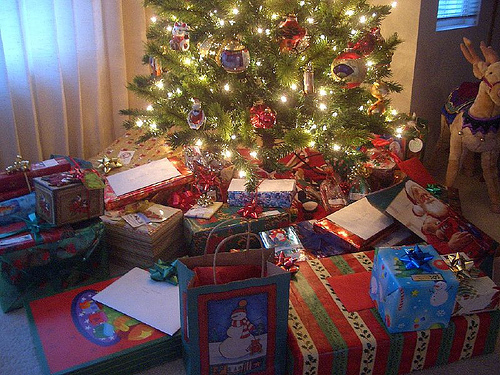 Source: Flickr
This is a guest post by Charissa Cowart from eBillme | Secure Cash Payments
This holiday season you're probably trying to find ways to spend less but still show your family and friends how much you care about them. Well I have a few ideas to help you on the way. Some of these are simple party ideas, some are gift-buying ideas and some are Do-It-Yourself ideas. So here they are, I hope they help… Knock your socks off!
Family Secret Santa – If you have a big extended family, like several aunts, uncles, and cousins who will all be with you on Christmas day but you don't know them well enough to know what to buy… a good idea is to arrange Secret Santa!
Here's how it works:
Everyone bring a wrapped gift (men bring a man's gift, women bring a woman's gift) and have them in two separate piles – decide on the price point ahead of time. One at a time each family member goes to the pile of gifts and picks one gift (don't open it yet). Then after everyone gets a wrapped gift (you can not pick your own gift), everyone opens the gifts at the same time to see what you got.
This way you only have to spend money on one gift, but everyone in the family gets to go home with a gift.
Gift Cards – Gift cards can seem like very impersonal gifts, but there are ways to make them fun! You can attach a gift card to a canvas and paint around it to make it more personal and unique. You can create your own gift basket with small things like inexpensive candles, candy, magazines, etc. and include the Gift Card. Gift Cards are great gifts because it allows the recipient to get whatever he/she wants and it eliminates the need for him/her to have to take back a gift that doesn't fit or they may already have.
Create Your Own Board Game – This is a neat idea! Check out this eHow article on How to Make Your Own Board Game. It could be really fun if you create a game about your family and give it to mom & dad, or grandma & grandpa but explain that it's a game for everyone to play! They family would love it and might start putting in orders for their own game!
Shop Online – Decide to do all your shopping online this year! There are many benefits to shopping online. You don't have to fight for a parking spot in the holiday traffic for one. eBillme.com is a great site for shopping online and you can pay cash online! The cool thing is, you can even earn 1% cash back on every order you make. You're practically making money while shopping!
Bring out the Cookbooks – Your local Kinko's can be your best friend when it comes to making things yourself. Gather up old recipes, family recipes, or new recipes from Paula Dean and Rachel Ray then take them to Kinko's and have them printed in the form of a cookbook! It would make a great gift for any females in your family.
These are just a few ideas to help you give great gifts this year but not have to take out a loan to do it.  Plus, you'll have fun making your own gifts or playing Secret Santa with the family.
Let us know your money-saving tips for holiday shopping in the comments.