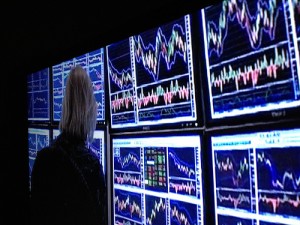 It appears that binary options are the new craze on the Internet when it comes to personal finance and saving. This type of investing attracts more and more people. However the question is if this type of investment is appropriate or not for these purposes.
More so, are binary options actually a real form of investing or they are merely gambling with a different packaging and sales pitch. In this article we have attempted to answer these questions.
How do binary options work?
In order to be able to give an answer to the above-mentioned questions we will have to understand what binary options actually are. Binary options are a form of trading where people will have to predict the future movement of various underlying assets.
In order to better understand this consider the below example:
–          Consider that the USD/EUR exchange rate is 1.35, in other words, you will have to pay USD 1.35 to buy a Euro.
In a typical binary options contract you will have the possibility to predict if this exchange rate will either go up or go down during a previously established time frame. In order to make this prediction, you will have to invest a certain amount of money.
– Consider that we invested $100 in the fact that the above-mentioned exchange rate will increase within the next 24 hours
– Also consider that the brokers where we made this prediction promises a   payout rate of 90%
Based on the above scenario, if your prediction is accurate by the time of the expiration of the option (24 hours after the purchasing of the option) we will win and we will get our investment back plus a commission that is 90% of our investment. In other words, we get $190.
However, if our prediction did not come true then we would have lost all the $100 invested without the possibility of a refund. And this is basically how binary options work. As you can see, there is nothing complicated about them however the question remains if they are suited for investing and saving money.  You can read more about how binary options work on the hereby linked website, among others.
Are binary options good for investing?
The answer to this question depends on how serious you are about investing. If you are serious about it and are ready to invest time and research, then yes, binary options can sometimes act as a real form of investing. We said sometimes because certain conditions will have to apply in order for this to be valid.
This is because in certain conditions binary options are nothing more than plain old gambling. For example, in case the expiration time of a contract is very short (from a few minutes up to a few hours only), then no matter what kind of research you do your winning chances completely depend on luck.
This is because it's almost impossible to accurately predict the future movement of assets within the time frame of just a few minutes and hours. For this reason, if you engage in such binary options contracts then you aren't doing anything else than gambling.
However, if expiration times are fairly long – such as multiple days up to even several months – then you will have a real chance to make accurate predictions based on research and technical analysis.
So, basically it all depends. Generally (let's say in 90% of the cases) binary options are nothing more than gambling. This is because the overwhelming majority of brokers only offer very short contract expiration times. If you stick to the remaining 10% you might have a slight chance of doing proper investment if you are smart.
Are binary options good for saving money?
If you paid attention to the description above then by now you clearly know that binary options are not a good way to save money. You obviously are not saving money if you invest it, especially not when it's such a high-risk investment than binary options.
So, if you have ever though of participating in binary options in order to save money then forget it quickly. This is perhaps the worst way anyone would want to save money.
Generally we believe that unless you know 100% what you are doing and already have experience with Forex and normal investing then you should stay away from binary options. Unfortunately many brokers market themselves to complete newcomers luring them in and taking their hard earned money.
This is also aggravated by the fact that binary options are extremely easy to understand and practice. But do not let yourself get fooled – this form of financial trading is indeed very easy however it's also perhaps the riskiest form of trading ever invented.