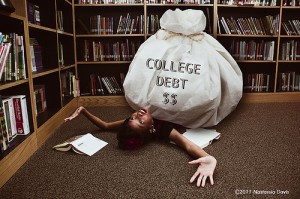 Marie Nelson is a financial writer, she writes article on debt, mortgage, real estate, foreclosure and provide apt advice to the consumers. She is associated with a financial community for last four years and helping the consumers to cope with their problems.
Education is becoming very expensive these days. There are families where the parents are not able to provide proper education to their children due to increase in the college tuition fees. As such, college seems to be a stressful time for many students. Buying books and paying the tuition fees even with financial hardships is almost next to impossible for many students. Some students even have to forgo college and go straight into being employed, and then are forced into getting their bachelors of accounting for working adults or another degree specifically designed for adults later in life to save money. Thus, taking out a student loan to arrange for these expenses is beneficial since it enables you to carry on with your higher studies and make a bright career.
Paying off college debt – Why is it so important?
You may have taken out a student loan because you didn't have sufficient money to complete your graduation degree. It is important on your part to try to pay off the college debt before you pass out. This is because once you complete your education, you'll definitely look for a good job. With debts even after graduation, you will not be able to get a suitable job. Also, your credit score will get hurt when you've debts to pay off. Many recruiters check out your credit score before giving you the job. Make sure you have a good credit score before you apply for a job. This will help them understand how you handle monetary matters since college and whether or not you're eligible to get the job.
College debt – What is its affect on a student's career and life?
Having too much college debt is one of the main reasons why most graduates are finding it difficult to get proper jobs according to their qualification. Moreover, since the rate of unemployment is still high, it is essential that you get a suitable job as soon as possible so that you may not have to face difficulty in searching job. Many companies do not want to recruit employees who are already entrapped into debts. Thus, this affects the career of the students to a great extent. Also, it ruins the life of a student when he fails to get the proper job. Just like getting proper education is important, similarly it is important to get a good job immediately after you complete your education. But, debt may stop you from getting the right job. It is advisable that you make it a point to pay down the debts you owe before leaving college. You may look for part-time jobs and earn money to get rid of the outstanding debts. Choose the job you're comfortable with and repay debts in order to secure your future. Being debt free will enable you to build a bright career and get job according to your capability.
Thus, if you have college debt, try to get rid of them since with debts mounting over your head, you'll spend sleepless nights worrying how you will be able to reduce them. You will also not be able to get the right kind of job depending upon your capability.