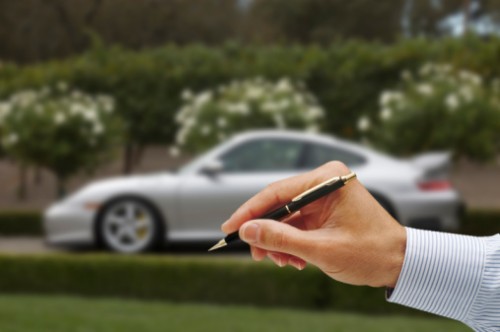 Taking the steps to get auto loan pre-approval has benefits that will really pay off later. First of all, it makes the car-buying process easier. It also serves as a tool to put you in a stronger standing for negotiations. And it helps you set a more realistic budget, which makes it much easier to pick the best car for you to buy.
But how do you get pre-approved in the first place? The good news is that it's much simpler than you may have assumed. Read on to find out some ways you can be sure you will get auto loan pre-approval.
1. Check your credit score, and make sure you are in good financial standing.
You can usually find free online credit scores from financial institutions and other services, such as Experian. And you can get at least one free copy of your credit report per year.
Once you know your credit score, you can find out what type of lenders you can potentially get auto loan pre-approval from. It will also help determine what the total loan amount would be. Typically, the higher your credit score, the better your rates. If your credit score is especially high, you may even qualify for a 0% rate.
Looking at your credit is something you should do early in the car-buying process. If your credit score is low, such as 600 or lower, and you don't need a new car immediately, maybe hold off for now. Instead, see if you can make changes to raise your credit score over the next six months to a year. Some ways you can improve it include making payments on time, paying off debts, and paying down credit card balances. Once you take the time to do so, you can end up getting a much better rate in the future.
Also, be wary of any car dealerships that prey on people with bad credit.
2. Read through your credit report and correct any mistakes.
If your credit score isn't as high as you think it should be, there may be an issue. So thoroughly read the report to get the larger picture. If you find any errors on your credit report, make sure you correct them before trying to get auto loan pre-approval. This can include debts that you have already paid off, fraudulent activity, or any debts that were wrongly applied to you. These errors negatively impact your credit score so getting them fixed ahead of time could lead to you getting a better rate.
3. Try to get auto loan pre-approval from multiple lenders.                                
At least two or three pre-approved loans would be good. That way, you can be sure you're choosing to go with the best rate. Different lenders can wind up offering you wildly different rates.
You might want to start by checking with your current financial institution, as they can sometimes give you a preferred rate for being a loyal customer. But that shouldn't be the only lender you consider. Try to look at different types of financial institutions as well. For instance, look at both local credit unions and larger, nationwide institutions. You can also look into online lenders, which some find more convenient since it means applying online instead of going to a location. And you might want to check out dealership-arranged financing as well, just to look into and consider all of the options available.
Finally, be sure to apply for all of them within a set period of two weeks. This ensures that applying for loan pre-approval has as little impact on your credit score as possible.
4. Know the difference between being pre-approved for an auto loan and being pre-qualified.
This is something that confuses many auto loan shoppers, who may assume they are the same thing. But there's actually a vast difference between the two.
The advantage of pre-qualification is that it only requires a soft credit inquiry, which won't put you at risk of lowering your credit score. And it doesn't require you to fill out a loan application. However, when you're absolutely ready to buy a car, a pre-approval is what will benefit you the most. A pre-qualification means little to nothing during the car-buying process. And it won't give you the great benefits that getting a pre-approval does.
Pre-approval comes after a lender reviews your full credit report and other important information. Because of the information you provide, pre-approval gives you a more specific idea of the rate offer you can expect. Pre-qualification only requires limited personal and financial information from you. So the estimate of an interest rate can be of a much wider range. Pre-approval gives you the advantage of shopping for a car as a cash buyer, which pre-qualification does not. Pre-qualification is also not an offer to fund you.
Whether you get pre-approval or pre-qualification, keep in mind that the specific car you decide to buy will affect your final rate.
5. Make sure you have all the paperwork you need to fill out the loan application.
The necessary paperwork usually includes proof of your identity, such as a driver's license or passport, your Social Security number, and your date of birth. And it can include proof of income, such as a pay stub and your salary, as well as proof of residency. If you moved somewhat recently, you may need to include your previous address as well. The exact paperwork requirements can vary by lender.
Once you have pre-approval, it will make the car-shopping process go much more smoothly. Consider getting pre-approved with Rivermark Community Credit Union's Express Auto Loan, which essentially will give you a blank check for car shopping. You can find more information about this, our auto loans in general, and more on our website. Not a member of Rivermark Community Credit Union already? You can actually apply to join us on this website as well.