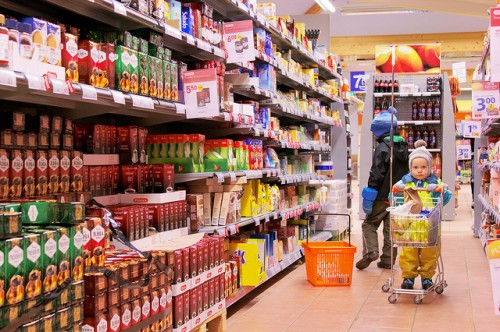 Food shopping – it's the dreaded Saturday morning task many of us have to tackle when we look in the fridge on a Friday night and realise it's not looking as full as it should.
As we skirt round disgruntled mothers with toddlers screaming in the trolley seat and tired looking 20-somethings popping in to pick up some bacon to relieve their hangovers, we might also be considering how to save a bit of cash this time round. So, here are ten amazing ways you can save money the next time you pop to the shops:
1. Set a budget
As the Daily Mail discovered late last year, it is possible to feed a family of four for just £40 a week and if you're feeling the need to tighten the purse strings, take some inspiration from the article and set your own budget – and stick to it!
2. Grow your own fruit and veg
If you've been blessed with green fingers, then growing your own fruit and veg could significantly cut down your costs. Pick up your seeds from a reputable distributor that sources them from a specialist in seed technology such as germains.com to ensure they are resistant to diseases and guaranteed to grow.
3. Don't shop while hungry
If you head to the shops with a rumbling stomach, you're going to come out with more than you need and items that are probably not good for you.
4. Swap out branded products for supermarket own
A basic concept, but one that many people still can't get their heads around, is to stop buying those branded cereals and baked beans. The Tesco own or Sainsbury's Everyday Value ranges are cheaper and taste pretty much the same.
5. Plan your meals for the week
A weekly shop might be the best tactic when it comes to saving money. Spend half an hour on a Sunday deciding what you're going to eat each day of the week, write a list with the ingredients you need and only buy these items. That way you'll have planned for the week, you'll know what you're eating and there will be no last minute unnecessary trips to the supermarket that usually bump up your costs.
6. Shop around
Certain items might be cheaper in different stores, so put aside any loyalty and pick up your meat from somewhere cheaper and veg from somewhere else – just be careful you aren't spending more on petrol to get there or you're not saving much at all!
7. Buy bulk items and cook them
Cooking and freezing batches of food is a great way of saving some cash; bulk items usually come with a reduction in price and you can have meals prepared way in advance. Potatoes, for example, can be bought in big packets then cooked and frozen ready to reheat in the future.
8. Use coupons wisely
Many supermarkets offer money off if you spend enough in store (this could be one argument towards being loyal to a certain shop) so if you get coupons be sure to use them.
9. Look for 'ugly' veg
Jamie Oliver has been working with Asda to produce a range of veg that features the products that would normally get rejected. Wonky carrots and knobbly parsnips that are perfectly good to eat will be sold in stores at reduced prices. The trial has started in selected stores and you can read more about it here.
10. Shop online
Many supermarkets offer exclusive online offers that can't be replicated in store, so you might just find something is much cheaper if you order it digitally and have it delivered – plus it means you don't have to even leave the house!