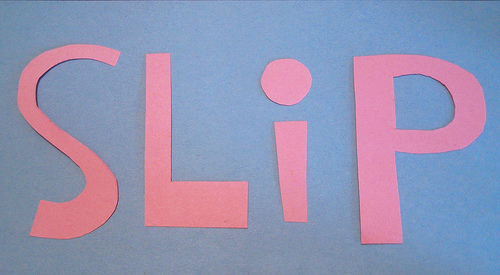 This is a guest post by Kris from Credit Card Compare, an Australian credit card comparison website.
Source: Flickr

In today's uncertain economic environment, a pink slip could be lurking just around the corner. It seems everywhere you look, people are being laid off in droves and it might make you wonder aloud, 'What would I do it that was me? Would I be able to survive? And if so, for how long?'
They are good questions. Ones that more people should be asking themselves. Maybe if more people did, they wouldn't be as unprepared as they often are when jobs are unexpectedly lost. Whether or not you suspect lighting might be about to strike your job, here are some steps you may want to consider taking in preparation for being dismissed.
1. Talk to family: If you think there is a chance you might be laid off, it can be a good idea to let your family know what is happening. Keeping them informed of the situation can decrease stress on you and them, and it can make the event less of a shock to them should it occur. Family can also help by keeping an eye out for open positions, looking for other forms of incomes, and decreasing expenses.
2. Start a reserve fund: Having a reserve stash of cash in the event that you loose your job can make the transition easier and less stressful. Don't tie up these funds in investments that aren't accessible though. Keeping at least three or four months worth of income in a savings or checking account as an emergency fund is a good idea, even when your job is secure.
3. Pay down debt: If you think your income will be dramatically decreased, you certainly don't want to have to keep paying on debt. Eliminating debt in the form of credit card bills, paying off a vehicle, home equity or similar loan, and limiting the amount of interest you pay each month. One of the easier ways of doing this is to apply for a 0% balance transfer card, which will significantly reduce interest on your credit card balance.
4. Prepare a budget: Having and abiding by a budget can be important for one's personal financial situation in the best of times, so it becomes even more relevant when it comes to the possibility of being unemployed. Knowing and understanding where your money comes where, and where it goes, can help you make tough decisions as to what expenditures must be could, should it become necessary.
5. Assess income: When creating your budget, review your income – and be honest. It won't help you to inflate the numbers to make yourself look good. Give special consideration to the sources and amounts of income that don't come from your regular job, as these may be your main sources of income when you are unemployed.
6. Evaluate expenses: It's often easier to cut expenses than create new streams of income after you've been laid off. Sitting down and reviewing all of your expenses can help you determine what items you can eliminate if you lose your job. To help you make decisions, you can divide your expenses into categories. You can make a list of essentials, which might include food, shelter, health insurance, etc. and things you want – things like cable television, internet or entertainment costs.
7. Review assets: After you've made your budget, you might want to make another list consisting of your available assets and their respected values. This is another area in which it pays to be honest with the values you assign to given assets. Understanding how much your belongings are worth can help you with the next step when preparing to be laid off.
pay
8. Determine liquidity of assets: Once you have a list of your assets, you can consider ways of disposing of those assets for cash. In a squeeze, you might be forced to sell some of your belongings to pay bills. If this is the case, you want to be the most bang for your buck. The internet can be a great tool in helping you find people or businesses to buy all sorts of stuff. From CDs and DVDs to books, clothing, workout equipment, antiques, and all sorts of other goods, internet sites like Craigslist, eBay, Cash4books.net, CarMax, SecondSpin.com, and similar sites, can be good ways to get cash for your stuff.
9. Look for outside sources of income: In preparation for being laid off, you should also consider what you can do while unemployed to earn extra cash. Besides cashing in your belongings, you should consider odd jobs you might do in your area, or talents you have such as artistry, home repair, tutoring, writing, and similar work that can supplement you during your income drought. Again, the internet as well as local want ads and can be good places to search for people or businesses that might be in need of your services.
10. Review your situation: If you actually are laid off, it might be time to re-evaluate your life and career decisions. However, while it may be tempting to wipe the slate clean and begin anew, you still have to survive and will need an income of some sort. Therefore, it is important to be to be prepared to take temporary work or file for unemployment if it comes to that. Review your state's process for filing unemployment and understand the timetable for getting benefits. It's better to be knowledgeable regarding the process and never have to use it than suffer a costly delay in receiving your benefits because you were unprepared.
What are ways you would prepare financially?