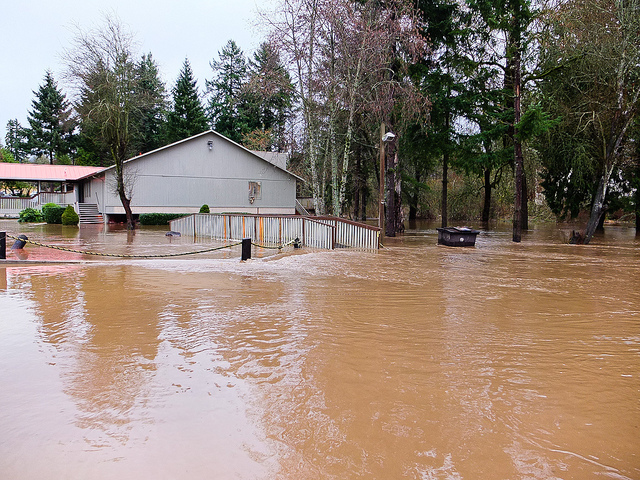 You can cut your food shop bill in half with coupons and offers, bargain your way to a reduced price for your new car, and save money on your bills by doubling up on jumpers instead of switching the central heating on …
… but there's one thing you can't budget for – dealing with a disastrous flood.
Especially since accidents always seem to happen at the worst moment, like slap bang in the middle of Christmas when you're already running short on both time and money.
Once you've got over the shock of seeing your house under four inches of water, the first thing you'll start worrying about is how on earth you're going to afford to fix it.
The good news is, as unprepared as you are, it's possible to recover from a flood without blowing your perfectly-budgeted finances to bits.
We're sharing three cost-effective tips for dealing with the whole messy process. Take a look.
#1: ask for help
Do you rent? Stay in an area with a high flood risk? Live in a new-build house? Different factors dictate who's liable to pay for the damage inflicted by a flood.
Speak to your insurance company for initial advice before checking in with your local council – there should be budgets or funds to help cover some of your rebuild costs, but unless you ask you won't get.
And remember, don't start any sort of clean up until you've taken plenty of photos as evidence for your claims and had a visit from your insurance providers to assess the damage. Otherwise you could end up receiving less money than you deserve.
#2: don't skimp on safety
Guaranteeing the safety of your house after an accident is one area you can't afford to skimp on.
Waters can carry hazardous waste or leave behind dangerous mould and bacteria. Hiring a professional in flood damage clean up to take care of it is the only way of ensuring your house is clean and safe to live in.
The same rule applies to any structural work that needs to be completed – safety comes before budget concerns, so always fork out for the experts.
#3: save on future cover
It's a tricky situation – you need to claim on your insurance to cover the cost of recuperating after a flood, but once you do it's goodbye to no-claims discounts and hello to stepped-up premiums.
Saving money on future insurance expenses is crucial to long-term financial recovery. Shop around at renewal time, using a price comparison site to secure the best deal.
You should also take precautionary steps, like installing flood barriers in your property, so that the damage doesn't end up being quite so widespread if disaster should strike again.
There's no real way of getting around it – falling victim to a flood isn't fun or cheap to deal with. But so long as you keep your head and follow our three steps, you won't have to completely blow your budget to get your home back in tip-top shape.