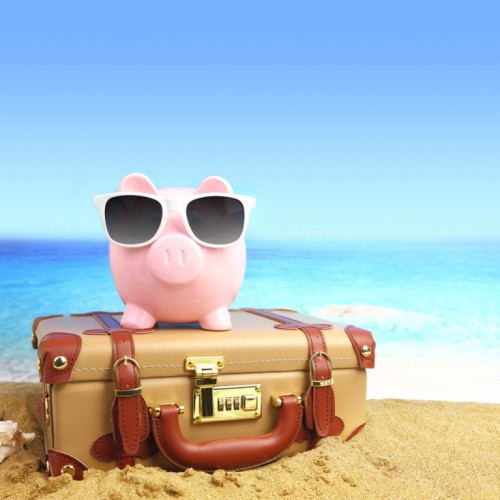 The term 'travelling on a shoestring budget' has fallen out of favour recently – and it's not because more people are using Velcro.
It's because getting from A to B has never been cheaper. Transport to an airport can occasionally be more expensive than the flight itself, and the rise of cheap AirBnB apartments has given luxury five-star hotels a run for their money.
For many Europeans, the rise in the tourist trade is causing problems, seeping out the character of capital cities and pricing out locals.
But while it's not an ideal situation for the local population, it's a boon for anyone who wants to travel in luxury without compromising their budget.
So what are you going to do with the cash you've saved on your cheap as chips holiday?
We'd recommend splashing out on a few luxuries from these companies – they'll make your travel plans easier and even more relaxing.
Looking4Parking
If you've ever driven your car to the airport, you'll understand what a headache it can be to find a decent parking spot.
You'll have your foot on the accelerator pedal for what feels like hours trying to find a space close to your terminal, only to end up somewhere closer to your home than the airport. That walk through acres of cars that got there before you is enough to make even the Dalai Lama bitter.
Thank your lucky stars for Looking4.com, then, a 'meet and greet' parking company that will take your car off your hands directly from the terminal.
We're highlighting this company because, unlike other parking providers, it's got a global reach. Whether you're travelling from Melbourne, Edinburgh or LA, you'll be able to use their service.
How much it'll cost you: A few days stay could cost you significantly less than £100. Book in advance and you'll also receive significant discounts.
Lakeland Travel Kettle
Strap yourselves in, because we're about to shock you to your very core – in the US, most hotels don't provide you with a mini kettle for boiling a brew.
We know – utter barbarism.
Kettles aren't really a thing in North America thanks to their extra-strength hobs. But that knowledge is a poor substitute for an extra-strong Americano after a long flight.
Pick your jaw up from the floor and straighten yourself out, the travel bods at Lakeland have you covered.
Their 0.5 litre travel kettle is perfect for use in any hotel, and can hold plenty of boiling water for one cup. Just remember to pack your travel adaptor!
How much it'll cost you: £26.99, and comes complete with two beakers, spoons and a carry bag.
Hilton Hotels
A solid night's sleep is the easiest way to enjoy an early flight, and it's a market that Hilton Hotels have been capitalising on for decades.
Hilton has placed hotels near most international airports, and offers a superior service to most of their counterparts.
How much it'll cost you: One night in the Hampton by Hilton Hotel near Stansted Airport will set you back £95. Not bad.
That's our list! Can you think of any other travel extras you'd happily shell out for? Then let us know in the comments below!