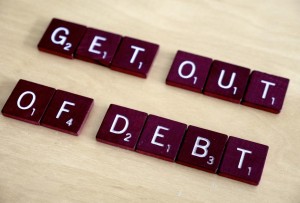 Borrowing money is one of the economic realities that could make or mar people depending on how they are able to manage the borrowed funds. Borrowing money allows you to make good use of capital that would otherwise be lying useless in a bank for a nominal fee known as the interest. However, a loan can quickly degenerate into a bad debt if you do not pay it back in full as at when due. Interestingly, you'll quickly find yourself in the bad books of the financial overlords if you fail to pay back your debts because you are tying down the money that someone else might want to put to better use.
The fact is that people often find themselves stuck within the vicious grasps of bad debts and they often find themselves sinking deeper into debt despite their best efforts to get out of debt. However, many people have gotten out of debt to live a life of financial abundance and you too can get out of debt if you follow some simple strategies. This article provides insight into three practical steps you can take to exit the debt trap.
1.    Accept the fact that you are in  debt
The first step towards dealing with debt is to stop living in denial and to come to terms with the fact that you are in a messy place financially. You might want to start coming to terms with your debt by ordering your credit report in order to know your credit score. Many people who are in a financial rut didn't just jump from healthy finances into poor finances. In most cases, a culmination of poor financial decisions over time often leads people into a financial rut. Hence, ordering your credit report helps you track the financial missteps you took along the way.
Once you know what your credit report says about your financial choices, you can then go ahead to know the depth of your financial rut. You should request for your latest bank statement of accounts in order to have an idea of your cash flow. You should also build up the courage to open up those bills that you've been ignoring because you were overwhelmed. You'll then go ahead to write out how much you owe each of your creditor – you should also add up the interest payable on each debt where applicable.
2.    Deal with credit cards ASAP
The next port of call is to deal with your credit card debts as soon as possible, especially if you have debts on expensive credit cards. To start with, you should take a critical look at your expenses and try to find ways to free up more money towards paying your credit card debts. You should also strive to make monthly payments that exceed the required amount for monthly payments because those extras could have a significant effect on your debt burden. You should strive to pay at least 20% more on each monthly payment.
You might also want to explore the possibility of transferring your debt into a 0% balance transfer credit card. 0% balance transfer credit cards can help you pay down your credit card debts faster because they provide you with an introductory period in which you won't need to pay interest. Hence, any payments you make during that period will be applied towards your loan principal. However, you need to ensure that you make the monthly payments on or before the due date in order to avoid late fees and penalties.
3.    Consolidate debts with a personal loan
If you have a very high credit card debt or if you are owing many different credit card companies, you might want to consider consolidating your debts with a personal loan. The same holds true if you have other debts and you know there's no way you can keep up with the monthly payments. As strange as it may sound, a personal loan might be a lifesaver if you are sinking under the weight of an enormous debt burden. However, you must ensure that you find a loan provider who understands your unique position and is willing to help you work out the best loan package for consolidating your debt.
Consolidating debts with a personal loan will require you to qualify for a personal loan in the first instance. If know you have chances of being approved for a loan, you can then go ahead to sending out your loan application. Once approved, you should use the money to pay off your debts starting with those with the highest interest rates and possibly the largest debts. You can then go ahead to start repaying the personal loan over much longer term and a significantly lower interest rate.