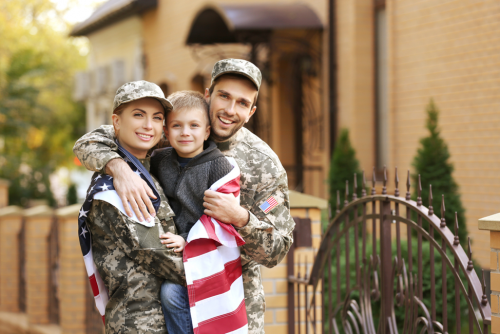 Dedicating yourself to military service is a truly noble sacrifice. And to thank you for your service, the government and many businesses offer benefits just for military service members.
The original G.I. Bill introduced during World War II is the greatest example. Then there are the ongoing VA healthcare, educational incentives and housing allowances that can help families build a wonderful life. Still, on top of these well-known benefits, a person can always do more for their family.
Nobody who has served needs an article to tell them how important it is to protect their family at all times. But the following tips can help steer you in the right direction toward a few areas to prioritize when looking to protect your loved ones.
1. Bolstering Home Security
Active duty members can go ages without seeing their loved ones. And many people who serve still have ongoing travel commitments after they come back from deployment.
For this reason, it makes sense to install a home security solution. Fortunately, technology in this area is only getting cheaper, so it is more affordable to outfit a residence with an alarm system, smart locks or even video cameras. This is your home after all; the investment will almost always be worth the peace of mind.
2. Preparing for the Worst
A sad reality of military life is the great risk that service members make. Tragically, some even make the ultimate sacrifice. The families of those who fall during active duty or training do receive significant federal benefits, but supplemental coverage is always a good option. Moreover, veterans can benefit greatly from life insurance through USAA that will protect the family finances even in the case of illness, accidental death or other causes.
These policies also pair well with several other benefits available to those who have served. Some of the highest-rated include free checking, low-rate mortgages and free ATM fees. Not only does this help save money, but it allows all your financial matters to be grouped together in an easy-to-manage portfolio at one trusted location with deep ties to the armed forces.
3. Protecting Your Wallet
People who have put their life on the line probably think about "protection" a bit differently than most, but there are many ways to safeguard your family against dangers of all types, and protecting your wallet is a big one. While the majority of those who have served take advantage of the big-ticket items, many forget — or simply don't know about — all the smaller discounts and benefits available. For example, Costco provides membership promotion deals for military members and veterans. World-class theme parks like Disney World, SeaWorld and Busch Gardens offer military discounts on tickets, as do cinema chains like AMC and CineMark. And many local diners and coffee shops are happy to show their appreciation with discounted meals or free items. Individually, the savings may not seem like much, but don't let these pass you by.
Protecting Your Loved Ones
You have dedicated yourself to protecting the nation, but you can never forget about those who are closest to you. Start with a home security upgrade. Then make sure you have comprehensive life insurance coverage for any worst-case scenarios. And be sure to help protect the family bottom line by taking advantage of all the discounts you're eligible to receive.
No doubt, your family is very proud of all you have accomplished and all the sacrifices you have made. They will forever be honored to know that you will always be their first line of defense.