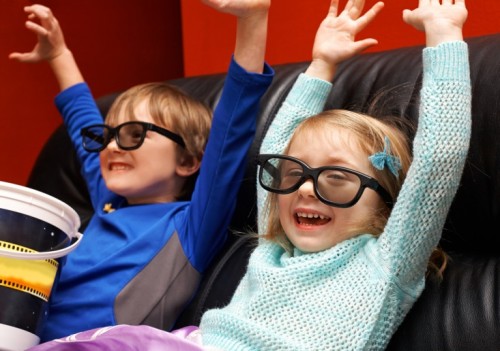 If you have young children at home, you know that finding the time to work, spend quality time with your children, and still get all your day-to-day errands done can be quite a challenge. Feeding your kids, reading to them every night, and making sure they're groomed and ready for school or daycare is extremely difficult, especially if you live in a single parent household or one in which both parents are working.
Luckily, in today's world there are a number of ways to save both time and money when you are out with your children.  It's possible to find discounted food at several family friendly restaurants that also serve healthy options, discounted haircuts with no appointment necessary, and even a way to get books for free and build up a personal library.
If you enjoy breakfast foods (my kids will always eat eggs as a quick source of protein) and want to get out of the house, up to 2 kids eat free at Denny's for every adult entree on Tuesdays after 4 PM.  They also offer Fit Fare menu options for you that are delicious and reduced calorie.  Aside from just breakfast foods, Denny's really can be thought of a as a diner that can prepare almost anything.
If you are looking for something more upscale or a place with more flexible days, Hooter's prices for kids are free every day of the week with the purchase of an adult entree.
There are a number of other restaurants that also offer at least one free kids meal with the purchase of an adult entree on various nights of the week.  These include Applebee's, IHOP, Firehouse Subs, Chick-fil-A, and Wahoo Fish Taco. Check with your local establishment to understand which days these deals are available, and up to what age your child may be.
For haircuts, Best Cuts prices are extremely reasonable for families.  You can expect to pay just $10 for men's and kid's haircuts, and slightly more for women.  The best part is that no appointment is necessary – walk in service is encouraged.  My kids love the hair gallery there – it's a guide to different hair cuts that they can choose from before getting a cut.  My kids get so excited by the fact that they have some power and control over how they look, that they literally light up at the thought of getting a haircut.
Creating a daily habit of reading to your children is critical to their education.  Numerous studies have shown that reading improves language and visual activity in children.  There are three options I use for acquiring new and interesting books that help me read to my children on a daily basis.
If you live in a low-income neighborhood, you can sign up to get a free book every month for each of your kids by applying at Imagination Library.  This program was launched in 1995 by Dolly Parton and has sent more than 80 million books to date.
The other two options I use are our local library and Kindle.  While the local library is self-explanatory, Amazon's Kindle may not be.  Amazon has a Kindle Unlimited program that allows you to choose from more than 100,000 children's books at only $10/month.  My kids love choosing new books every night before bed, and I love reading to them using our iPad and the free Kindle app.  While the program costs $9.99/month, I find that I spend much less than I would buying the books, and that the variety in books is well worth the price.
These are some of the ways to save money with small children at home.  If you can think of others, I'd love to hear about them in the comments section below.