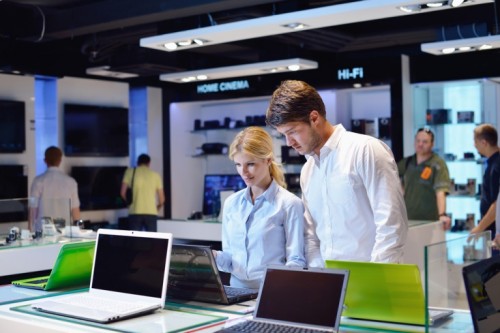 In a perfect world, you could run right out and buy the latest 4K TV, smartphone, snazzy laptop and any other tech gadget your heart desired.
Of course, you live in the real world—you know, the one with groceries to buy, bills to pay and a limited amount of fun money to splurge on your passion for technology.
Fortunately, there are plenty of great and inexpensive gadgets and killer deals out there that will appease your inner technophile while still keeping the landlord happy. For example, check out the following affordable and feature-packed ideas:
Amazon Echo Dot
If you have $39 burning a hole in your pocket, you can join the world of Alexa with the Amazon Echo Dot. The small device, which is about the size and shape of a hockey puck, is a hands-free, voice-controlled device that uses Alexa to make calls, play music, find out info for you, read the news and much more. If you have a connected device in your home from WeMo (keep reading!) or another company, you can also use your Echo Dot to control your lights, TVs, ceiling fans and more. You can hook the Echo Dot up to your speakers or headphones through Bluetooth and rock out to your fave tunes—and, thanks to the Echo Dot's seven far-field microphones, it can hear you from across the room, even when the music is loud.
WeMo Smart Plug
If you wish your home was "smarter" and your wallet was fatter, no worries. For about 30 clams, you can buy a WeMo Mini Wi-Fi smart plug from a retailer like Best Buy. This nifty little gadget will connect to any electrical outlet and then will give whatever you plug into it smart capabilities. Thanks to the free WeMo app, you can schedule your lights to go on and off at certain times of the day, have your Keurig start warming up at 7 a.m. and more, all through your phone.
BOGO Deals on Smartphones
Bringing home one of the latest and greatest smartphones is a fun and exciting experience—and quite spendy. Fortunately, if you keep your eyes open and watch for amazing deals at cell phone carriers, you can still score the latest phones for significantly less money. For instance, T-Mobile has a number of cell phone deals on some of the newest and most popular smartphones. For example, if you buy an eligible iPhone, you will get an iPhone 8 on them, and if you purchase one of the newest Samsung Galaxy smartphones, you can get a Galaxy S8 for free. With people shelling out easily $800 or more for some of these phones, knowing that you can get two for the same price is pretty amazing.
Virtual Reality for the Cost of a Large Pizza
Yes, you read that correctly—thanks to Google Cardboard, you can experience virtual reality for around 15 bucks. This amount will get you a viewer—then all you need to do is insert your smartphone (maybe one of the snazzy new ones mentioned above) into the viewer, download a virtual reality app and 360-videos and you will be enjoying virtual reality in an easy and uber cheap way.
Have Fun with Your New Gadgets
It is reassuring to know that a love of technology does not mean drowning in debt or missing out on some great gadgets. By watching sales, researching low-cost versions of devices, and alternatives to gadgets, it is more than possible to be a devoted technophile—and still get the bills paid on time.