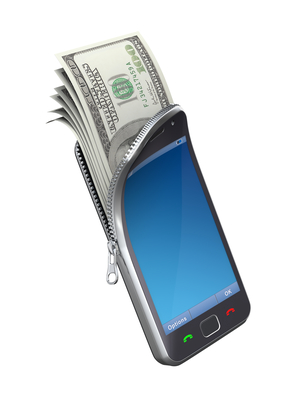 While smartphones are a must-have item in modern society, if you are not careful, they can quickly turn into electronic money pits. From roaming charges to extra services to costly contracts and insurance, many people pay a pretty penny for their smartphones.
Instead, to keep your monthly bill as low as possible, consider these four frugal tips:
Not All Carriers Are Created Equally
Even if you have been with the same cellphone company for years and are happy with its service, it doesn't hurt to research what the other carriers offer. Not all companies have the same Internet speeds and number of local cell towers, for instance. And prices definitely vary depending on who you choose.
For example, T-Mobile's Simple Choice Plan starts at $50 a month and includes unlimited talk, text and data without having to sign a standard 2-year contract for the latest phone like the Samsung Galaxy S 6. This means there are no annual service contracts or domestic overage fees. As a bonus, you can roll your unused 4G LTE data over into the next month at no cost. These are just some of the features that keep your costs down and your overage risks to a minimum.
Eliminate Optional Services
You may be paying for smartphone services that you do not want or need. These services often come with your plan and have to be manually removed. To find and cancel these charges, carefully go over your printed bill and look for fees you do not recognize. Then, give your carrier a call and have the customer service rep go over any unknown charges with you, and cancel the ones you do not want on the spot. You can eliminate services such as GPS and visual voice mail to save as much as $15 a month.
Say No to Insurance
While smartphone insurance might seem like a good idea — afterall, you've heard horror stories from your friends about lost phones or devices that went for an ill-fated dip in the pool — chances are you will not use this service.
Most cellphone insurance policies cost about $14 a month, and that's not including the spendy deductible. Instead of paying this to your carrier, set the money aside each month and then use it to repair a broken screen or any other fixable problem if you need to. Also, remember that many smartphones already come with a one year warranty that covers any hardware or software issues.
Say Yes to VoIP
Use voice over Internet protocol (VoIP) to stretch out your plan's minutes. Two great options are Google Voice and Skype; the former gives you free voice and text messages and the latter lets you make unlimited calls throughout the United States for a small fee.
By using VoIP, you can choose a more limited voice and data plan and save big bucks. U.S. News and World Report lists five cheap cellphone plans, some of which include low numbers of minutes. For instance, Airvoice offers an a la carte plan starting at $10 a month for 250 minutes of talk time, which you can supplement with Google Voice or Skype.