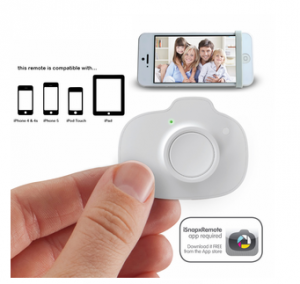 Anyone who's ever looked into iPhone (or really any Apple product) accessories have realized at least one thing – they're all so expensive! After receiving my first iPhone I was so excited to look into all the bells and whistles of accessories that are offered, which is when I realized just how expensive they were. Well, with the holidays around the corner, we were able to compile a list of accessories that any iPhone user is sure to love. And the best part? They're all under $30!
iPhone Wireless Shutter Remote Control -$29.95
While cell phones continually improve their technology, especially their cameras, people are actually replacing their cameras by using their devices! I can't tell you how many iPads were in my view of the lions during my recent trip to the zoo. Same goes for weddings and sporting events too. With family activities coming up this season, what better gift then a shutter remote control? This control will allow you to snap a photo using your iPad or iPhone up to 10 feet away! No more pictures of Aunt Susan's right half running to get into the photo after hitting the timer button. It is one of the cool accessories for iPhone 5
The Daily Brick Lego iPhone 5 Dock – $19.36
If your iPhone user doesn't have a dock.. they're truly missing out. Instead of manually checking your phone to see what you've missed while working, the dock props your phone up so you can see the moment it has activity. This particular dock ensures that the speakers will not be blocked while it's stationed. Now you don't just have a charging station, you have a portable boom box stand.
Bluetooth Music Receiver – $29.99
Music lovers will enjoy this Bluetooth music receiver so that they can play their favorite songs from their phone to any speakers, stereo, TV and more! Stream your favorite music to your stereo and turn it up to jam out in any part of your house! Apologize in advance to your neighbors. Use your phone to turn on a comedy podcast, or even live radio show and stream it while you're doing the dishes. Whistle while you work. Entertain yourselves while enjoying the weather on the deck while not risking your phone out in the elements. Smart thinking!
iPhone and Android Lens Series – $20.00
Other than having a cute name, this particular gift will become the new best friends of the photo lovers and photographers in the making. This lens series acts as pro-lenses for your phone and features a fisheye, telephoto, wide angle and macro lenses for any shot you may encounter. The possibilities are endless with this pack and you will be very thankful you didn't pay for a professional set of lenses, but were still able to give such a rewarding gift!
5. Qi Wireless Charging Pad – $30.00
A wireless charging pad is a great gift for the lazy, the clumsy, the busy, and everyone in between. No more excuses for why your child's phone is dead because I "forgot to plug it in." Trust me, that's just an excuse for the charger cord fell behind the couch and I was too lazy to climb under there to grab it. It is one of the most useful accessories for iPhone 5. Also, wireless charging is completely safe so no explosions will happen when the clumsy gadget lover drops their water bottle on it. Definitely can't say the same for the cord type. How about the hard worker who didn't have time to plug it in? Just place it on the pad and you won't have to! Virtually any user will benefit from a wireless charging pad, and for only $35, you should get one for yourself too!