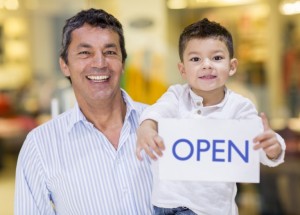 Due in part to the popularity of shows such as ABC's Shark Tank and investor Mark Lemonis' The Profit, new businesses are springing up more than at any other time in modern history. It's a generally accepted reality that the only real path to financial freedom for most Americans is through building a successful company – andcrowdfunding websites can be a great help in getting a good idea off the ground.
In the following, you'll see some other ways to secure the necessary funding for an idea that has potential. Of course, you should have already worked out most of the business details beforehand, so that the funds won't be wasted on things you can do, yourself.
1.Grants Are Available for Science-oriented Businesses
If your business distinctly involves scientific research in some way, then the Small Business Innovation Research and the Business Technology Transfer programs can be of great assistance financially – as well as in terms of access to resources. Just keep in mind that some of these types of grants carry percentage stipulations – meaning your intellectual property may be used, in some capacity, by the government and for commercialization purposes. The greatest benefit, of course, is that this is a grant and does not have to be repaid – there are no interest payments to worry about.
2. Crowdfunding in the Internet Age
Because we live in the most robust Information Age that has ever existed, local news can go viral and bring in attention from all over the country and, indeed, world. If you have a business idea that is socially-conscious in some way, or tied to trending news, thencrowdfunding is a viable way to raise money. It works by various interested parties or individuals contributing donations; clearly, the greater the streams of traffic you can reach, the more donations will come in.
3. Own a House? Home Equity Loans as Capital
Another viable option for homeowners is to take out a loan on your house; this equity loan is equivalent to the total remaining cost of your home – not including the amount you have left to pay. So, if you have a $500,000 house and have paid $200,000 on it, then you have equity of $300,000 on it.
In addition to the sheer amount of business capital this represents, the interest terms on home equity loans are virtually unbeatable – given the characteristic 30-year repayment period. Basically, you're able to borrow the money you need at very low costs when compared to other forms of borrowing.
4. Credit Cards
This method takes some planning; given that, if you're like most people, you carry a balance on your card from everyday expenditures. Starting and seeing a business through takes discipline; whittle your balances down to zero. Then, credit cards can make a valuable addition to your spate of fundraising and financial support tools. There are specific credit cards tailor-made for business use, too; contact your provider or bank about acquiring one or more of these.
5. Venture Capitalists and Angel Investors
If you've been able to get your business of the ground and have a revenue stream to show its capacity for profitability, then a venture capitalist can be a tremendous ally. This is what's actually happening on the show Shark Tank;venture capitalists and angel investors often require a sizable percentage or return on their investment. But if they can make you double-digit millionaires, does it matter what percentage? It's usually around 20 percent, for the record. In sum, it's the age of private enterprise; and there's plenty of help available financially.
Author's Bio
Wendy Dessler
Title: Super-Connector at OutreachMama
Wendy is a super-connector with OutreachMama and Youth Noise NJ who helps businesses find their audience online through outreach, partnerships, and networking. She frequently writes about the latest advancements in digital marketing and focuses her efforts on developing customized blogger outreach plans depending on the industry and competition. You can contact her on Twitter.
Photo: http://www.outreachmama.com/wp-content/uploads/2016/07/Wendy-Dessler.jpg