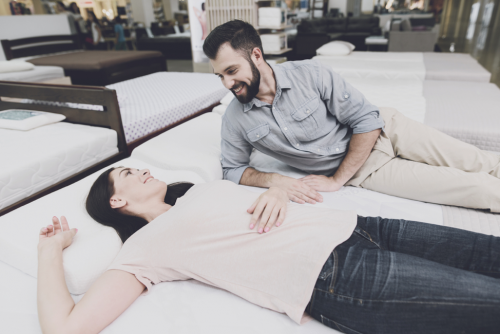 From DIY blogs to cable TV, so many people are obsessed with used and refurbished furniture these days that it can be difficult to make sense of buying anything new. 
And yet there are many reasons to buy new furniture, from a lower risk of allergies to sturdier pieces that can withstand life (e.g., the many kids, guests, dogs, Netflix marathons and Super Bowl parties that owners will be sure to inflict upon them over time). 
The trick is to make new furniture affordable. Here's how to buy new, quality furniture without breaking the bank.
1. Buy Room Sets
Instead of buying pieces here and there, bunch your purchases together to maximize discounts. Buy a bedroom set rather than buying a bed, dresser, and nightstands at different retailers, especially if you want the wood stain and grain to match or if you're worried about everything fitting in the room. 
2. Shop Sales
Beyond the weekly sales, you may want to time your shopping around major holidays like the Fourth of July or Labor Day, and don't neglect the clearance aisle! Many stores offer deep discounts on off-season furniture (think patio furniture in August), returned merchandise or floor models. Be sure to walk past the front displays all the way to the back room. If you shop online, filter your search results to include only sale items.
3. Ask for Discounts
Most stores overprice their furniture, so even sale prices are grossly inflated to make a tidy profit. That's why consumers should be shameless in negotiating more discounts. 
Students, educators, and government or military personnel may be eligible for an automatic discount if they show proper identification. Case in point: In 2013, 89 percent of consumers who attempted to negotiate lower prices were given a discount at least once and saved, on average, $300, according to Consumer Reports.
4. Use a New Credit Card
Rather than opening a consumer credit card account with a big-box furniture store, finance your big purchase with a new credit card that offers a promotional period of 0 percent APR plus rewards for spending. 
For example, the Capital One Quicksilver offers 0 percent APR on purchases and balance transfers for up to 15 months, 1.5 percent cash back on every purchase and no annual fee. 
Another great card, Chase Sapphire Preferred, offers 60,000 bonus points after you spend $4,000 within the first three months of opening the card, which equates to $750 toward travel when redeemed through Chase Ultimate Rewards.
5. Skip Costly Add-Ons
Once you negotiate a final price on a piece of furniture, more expenses are always tacked on, like warranties, special order fabric or treatments and delivery fees. To avoid these added costs, ask to pick up the order in-store, and just say "no" to any extended warranties. 
Now, many warranties sound awesome, but in most cases, the cost outweighs the benefit due to limits on coverage, overlaps with the existing manufacturer's warranty and even the warranty underwriter going out of business. Bottom line: Splurge on the furniture, not the extras.
6. Compare Prices
The exact same piece of furniture can range in price from $1,500 to $2,800 at different retailers, so it definitely pays to shop around. Thus, if you find a piece you like, don't rush into buying it right away; instead, write down the model number and do a quick Google search to see if any other retailers offer the same item for less.
Do Your Homework Before Making a Big Purchase
No matter what type of furniture you buy, you can afford to buy it new. Just be sure to shop around during peak sale season, skip the warranties, ask for deep discounts, and maximize your credit card rewards.