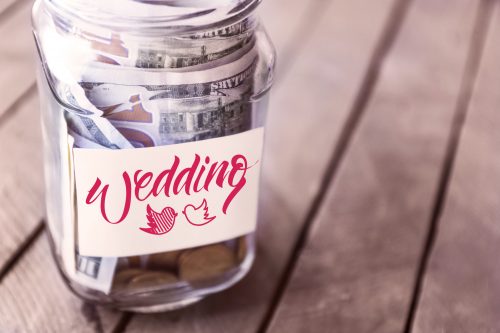 The average cost of a wedding in the US is now an extortionate $29,200.
You might wonder how people have the money to fund such extravagant weddings. Often, the problem is that they don't have the money and end up taking out wedding loans or charging their nuptials to their credit card.
But you don't have to spend a fortune or get into debt to celebrate the wedding of your dreams. Here are some great budget wedding ideas to help you save money on your big day.
1. Change the Day
One of the easiest ways to have a cheap wedding is to hold it on a Sunday or a weeknight. As there's less demand for these dates, vendors are more likely to give you better rates on the venue, flowers, photos, and other services.
2. Go Digital
Love the look of printed invitations and save the date cards but not the high prices? Adobe Spark's save the date templates can help you save some serious cash. And it's easy to customize your invites using digital design programs.
The final results are just as personal and look great for a fraction of the cost.
3. Get Your Dress for Less
It can be difficult to find budget-friendly wedding dresses that fit like the designer gown of your dreams.
One way to keep costs down is to go to sample sales where you'll get hefty discounts on designer wedding dresses. Another option is an off-the-rack gown. With a little tailoring, it'll look custom-made without you having to spend a fortune.
4. Hire a Student for Your Wedding Makeup
For low budget wedding makeup, hire one of the top students from a local cosmetology school.
A student might take a little longer but they'll charge a fraction of what a pro would want. And, they'll be extra committed to giving you and your bridal party the best results as a way to build up their client base.
5. Simplify Table Decorations
Less is more when it comes to wedding table decorations.
Rather than fussy and extravagant flower displays, keep things simple with single flowers in bud vases interspersed with candles for a dramatic feel.
Then, an elegant napkin, simple printed menu, and name card are all you need for each guest's place setting. Trust us, this is one of the budget-friendly changes that none of your guests will notice.
6. Serve Single-Tiered Cakes
Instead of a huge tiered cake, go for the budget wedding option of several single-tiered cakes. This way, you can serve different kinds of cakes in a cake buffet or offer single cakes for each table.
And the best part is, you can still have your cake-cutting moment but without the extortionate cost.
Budget Wedding Ideas
As this selection of budget wedding ideas shows, you don't have to elope or go full-on DIY to save money on your nuptials.
Instead, with a little careful planning and simple changes here and there you can save big bucks and still enjoy the day of your dreams.
For more great ways to make your money go further, be sure to check out our other blog posts!