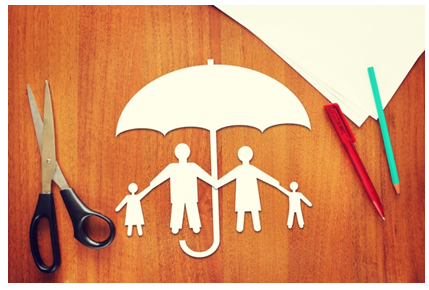 None of us like to think we might need insurance, but bad things happen and insurance is there to protect is when the roof caves in or an elderly relative can no longer take care of themselves. The problem is there are so many different types of insurance available that it can be nigh on impossible to figure out which policies are worth buying. And when confusion reigns, most people stick their heads in the sand and ignore the problem.
Insurance is a safety net. It covers your back when things go wrong in life. You might be a lucky person who sails through life experiencing no problems whatsoever, in which case your insurance payments are money for nothing. But can you afford to take that chance?
Sadly, the majority of people have to deal with major problems at some time or another. You could lose your job or suffer a serious accident that leaves you with life-changing injuries. Both scenarios would have serious financial ramifications, particularly if you need long-term medical care.
The right insurance policy will pay out when you need to make a claim and save you from financial strife, so it is sensible to have sufficient cover in place. So what are the top seven insurance policies you could consider investing in?
Health Insurance
Medical bills can be astronomical. Chronic illness or surgical procedures can cost a fortune, which will ruin you unless you have adequate medical insurance cover. Shop around for the best policy and check whether you can obtain affordable insurance via your job.
Life Insurance
Death comes to us all eventually. At some point, you will die. Life insurance won't save you, but it will help your loved ones cope after you have departed this world for the next.
There are two types of life insurance: term and permanent. Term life insurance covers you for a fixed term, typically for the length of a mortgage or until the kids are old enough to fend for themselves. Permanent life insurance provides cover for a lifetime, so it is more of an investment. Whichever one you go for, make sure it pays out enough to provide for your loved ones if you die.
Critical Illness Insurance
Nobody likes to think they will end up with cancer or some other terminal illness. Critical illness insurance is a safety net against such a diagnosis. It won't make you better, but it will take some of the stress away by providing a lump sum you can use to pay off your mortgage or work through your bucket list.
Disability Insurance
Have you thought about how you would manage to earn a living if you had a serious accident or an illness causes a disability? When things like this happen, disability insurance is a lifesaver. Health insurance takes care of the medical bills, but it won't pay your mortgage or cover your bills, whereas disability insurance gives you a replacement income.
Homeowners Insurance
Homeowners insurance is a must-have policy if you own a property. This type of insurance protects you against huge repair bills if a tornado hits or your house burns down. It will also pay out if a burglar breaks in and steals your valuables.
Do make sure you take out sufficient cover when you buy homeowners insurance. An awful lot of people underinsure their property and belongings, and end up losing out when they need to make a claim.
Auto Insurance
Auto insurance covers damage to your vehicle, including vandalism and theft. It also pays out if you cause an accident where others are hurt, or you damage someone else's property whilst in your car. So if you hit a tree and the tree falls over and flattens someone's house, don't worry, you are covered.
Earnings Insurance
As anyone who is self-employed knows, when you don't work, you won't be paid. Earnings insurance pays out if you can't work due to an accident or sickness. It is a must-have insurance cover for anyone who is self-employed, particularly when you are the main wage earner and you have a family to support.
There are many other types of insurance to consider, but not all of them will be applicable to your personal situation. If in doubt, talk to an independent insurance broker and obtain a few quotes. But remember: do read the small print before you buy insurance, as you might discover too late that there is a clause in the policy saying you are not covered.