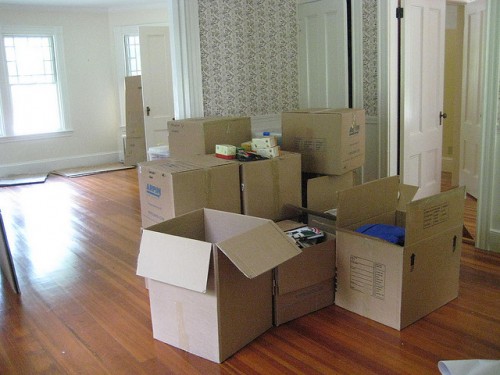 There's no arguing that moving can be costly. From paying for packing materials down to the gas for the rental truck (or personal vehicle), there's a lot of expenses to be accounted for. Not to mention, whether you're moving to an apartment or a new home the costs of affording your living accommodations has probably already got your bank account on empty. While there are some things worth spending top dollar for, when it comes to moving, there are tricks that can help you stick to your budget, and even earn a few bucks along the way…here's a few tips to help you out.
1.  Getting Moving Company Estimates Immediately
Unless you're packing extremely light, chances are you're not going to be loading up your personal vehicle and driving to your destination. In which sense you will need to hire a moving company or rent a moving truck. The best way to save money on rentals or moving services is to shop around, get a few estimates, and plan well in advance. Look at several moving companies in the area, get a quote for your move, and determine which company offers you the best savings. It is also important to note that if you book ahead of time, you're likely to get a discounted estimate as opposed to waiting until the last minute.
2.  Price Comparisons for Deals on Utilities
It's also a great idea to do some comparison shopping for your utilities and subscription services at your new place. United Van Lines suggests looking around for bundles and packages deals on your cable, internet and phone services. However, you can also look into affordable services for other utilities, such as gas and electric and even car insurance, if you're moving to another state that your current provider doesn't service.
3.  Don't Spend a Lot on Moving Supplies
Moving supplies such as boxes and protective covering for your fragile items can really cost a lot if you're not paying attention. While you need the supplies to store and protect your belongings, a lot of times you can find supplies for free. For example, fragile items could be wrapped in newspaper or even some old towels or linens to protect them. In most cases, you can also find durable boxes for free by checking the dumpsters near grocery stores or even department stores.
4.  Purge Your Belongings
If you use a moving truck, the fewer items you have to load on the truck the smaller rental you'll need. On the other hand, if you've opted to hire a moving company to do the moving for you, they often charge by the hour and/or weight of your belongings. Therefore, if you have fewer things to load on the truck, the movers can charge less man hours, and fewer items will obviously weigh a lot less as well. Begin sorting through your things. Anything that you're not interested in keeping should be put aside for donation or trash (if it's in bad shape). If you've planned well in advance, this can be done room by room so that you don't have to feel overwhelmed and rushed.
5.  Sell Unwanted Items for Cash
If your moving budget is really tight, you can cut some of the out of pocket costs by selling your unwanted items. There are several ways that you can sell your personal items. If you have a lot of high end items that are in good shape, you could consider selling them to a consignment shop. You can sell any unwanted jewelry to a gold or silver buyer. Lastly, you could advertise a yard sale. This will allow you to set your own prices and make a few extra bucks. This money can then be put towards the total cost of the movers or the rental truck for the big move.
Sometimes, all the stress from a move comes from improper planning. While there are some expenses involved, planning ahead of time, shopping around for the best prices, and earning a few extra bucks along the way can help you to stick to your budget. Though it won't stop all of your hairs from turning gray, it can certainly help you keep a few extra bucks in your bank account.