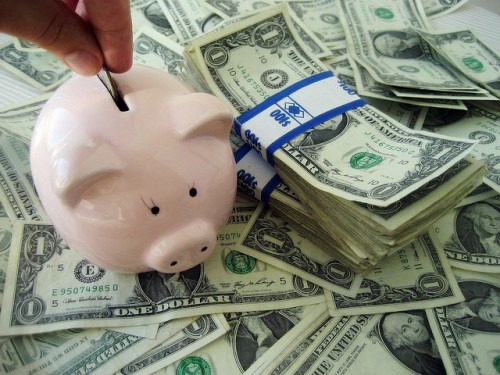 Saving money can be tough, but it's such a useful thing to do. You may be saving up for something specific like a deposit for your first property, or you may just be saving away for a rainy day. Whatever the reason, having some money put aside can be very useful.
So how can you make it easier to save? Here are some ideas to help you save away more money faster.
Set a Savings Target
One of the first things you should do is set a savings target. By having a concrete target to reach, you can start working towards it.
As you get closer to reaching your target, this can provide you with more enthusiasm to save even more, reducing the risk that you might just give up your efforts.
You might also want to reward yourself for hitting your target, or for hitting smaller targets along the way. So treat yourself to a day out or a small purchase to reward your hard work.
Choose the Best Savings Account
Once you start saving, you want your money to work hard for you. Rates in savings accounts are at historic lows right now, but that doesn't mean there are no good deals to be found.
Take a look at the high-street banks and find a savings account that offers the best rate. Then you know that the more you save, the more interest you will earn, helping you to reach your target sooner.
Set Up a Standing Order
By setting up a standing order that goes straight to your savings account every month, you can save without even thinking about it.
Sometimes taking your money out of your account and putting it into a savings account can seem hard to do, and you might even forget. So set up a standing order and make it easy.
Make Savings on the Small Things
There are lots of great money-saving tips available, and one of the best is to make savings on the small things because these will add up.
By saving money on that coffee you buy every day or that magazine subscription that you no longer use, you will find that the overall savings can be significant.
Always Look for Special Offers
Special offers can be found everywhere, so always be on the lookout for them. Whether these are two-for-one offers in the local store, or special discounts on a product that you have to buy, always keep an eye open for deals.
Follow social media accounts of companies whose products you buy, sign up to their newsletters, and sign up to receive emails from discount services like Groupon.
Work with an Umbrella Company
If you are a contractor, every penny counts and you have to watch where you are spending your money. By working with an umbrella company, you may be able to save money.
Save money on dealing with your tax issues, and save time with fewer administrative hassles, giving you more time to put towards earning money. You might even be able to get discounts on things like health services, and you might be able to claim business expenses to pay less tax.
You can find a suitable umbrella company by using a service like umbrellacompany.uk.com.
Make an Effort to Clear Your Credit Card Debts
If you currently have credit card debts, make sure you clear these before you start saving. You will be paying more on these than you will get in interest from your savings account, so it makes sense to get rid of your debts first.
Change Your Gas and Electricity Provider
Compare gas and electricity providers regularly to find out whether you could be getting a better deal. Use a comparison site online to find the best deals, and switch if you find you can make a saving.
Don't just do it once, and keep checking once a year or more to ensure you are always on the best tariff.
Sell Your Old Stuff
If you have old items around the home that you don't use, don't throw them away. Instead, sell them using a site like eBay.
It's easy to do, and you could find that you can make a good amount of money by selling things you don't need any more.
Save More Money with Ease
These are all great ways that you can save more money fast without having to make huge sacrifices. Once you start saving money regularly, you'll find other ways to save more, helping you to reach and overtake your savings target with ease. So start today, start small, and see how much you can save.
Adam Davison writes about saving money. A Father of four, he has had to learn how to make his money stretch, and enjoys sharing his tips with others on personal finance blogs.