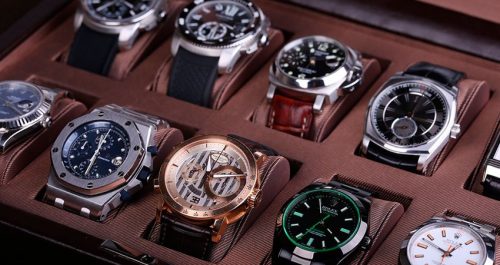 Watches are the essential tools that are used by everyone to see the time. Wearing a watch is very crucial in your life. It helps in keeping a track of time and also helps in completing a task within a time limit. These also develop punctuality and orderliness among people. Nowadays these watches are worn as an accessory which enhances a person's style and appearance.
Why You Should Wear High-End Watches
The choice of wearing good timepieces is a passion among various people. It is a method of reflecting one's culture and elegance among people. Social etiquettes mainly involve good manners and also good appearance which can be maximized by opting visual indicators, which are very powerful. People come to conclusions by looking at these visual indicators.
So wear a good watch on your wrist as it conveys a message to people who are dealing with you that you should be considered seriously. Everyone likes to buy expensive watches even though cheap watches also serve the same purpose.
The high-end watches have good craftsmanship involved in its making. Along with brand these watches have intricate complications like calendar, chronograph, and time display as well as have ravishing jewelry. Gems are used to give these watches a distinct look. But it is not necessary that all high-end watches are embedded with stones.
These kinds of watches have good designs and appearance. You must have heard or read about these high-end watches in some magazines. Mostly for some of the people it is considered as a hobby to collect watches.  As these watches are very expensive in nature it is not possible for everyone to buy these watches.
There is a trick involved in its buying. In retail stores it is very expensive. You do not need to buy it from the retail store as these stores have to pay rent and it also involves the salaries of their employees. Mostly the discounts offered in these retail stores are around 20 to 25% after negotiations with the salesperson and their managers.
How To Buy High End Watches For Up to 75% Off The Retail Price?
Online Shopping
Online shopping offers a good choice for purchasing authentic watches. It provides a good scope for buying watches at reasonable prices. The online shopping is very convenient and safe. These online stores offer 20 to 30% discount than the retail stores as there is no extra cost involved.
But you can go for more discounts by searching for more online stores which provide up to 75% off the retail price. Even watchshopping.com can be visited to have good deals on watches. One of the best collections of watches is Bulgari watches, which come in different designs and styles. You can purchase a jewelry watch for yourself and even for gift purpose.
The online shopping provides good customer service and they have good return policies and most of these online stores provide to their customers' free shipping and also provide one year warranty on their watches. Even there are no extra charges and this also saves your money.
If you want good deals on your watches it is important that you need to keep visiting these sites on a daily basis to know about different prices which they are offering. It saves you money.
Different Options for Watch Lovers to Enjoy a Budget-Friendly Watch
High-end luxury is desirable by everyone and luxury watches are not an exception. These watches involve high price range which is not affordable by everyone. It is very disappointing that you like a watch and are not able to afford it due to the high price.
But there are different secret ways to have high-end watches without investing much amount. You can enjoy some of the best watches even if your budget is low.
Changing the Strap Of Your Watch To Enhance Its Look
You can optimize the look of your watch by changing its strap. This can be achieved by making a good choice about the matching colors that suit your watch. Even a strap professional can be consulted but this involves extra cost. When you do most things yourself it is cheap.
You can even choose good animal skin straps which provide a classy look to your watch. Mastering the art of "Strap reclassification" helps in wearing watches which look above your pay scale.
Buying the Used Watches
If it is not possible to buy a new watch even you can opt for the used ones. As the used cars depreciate after a period and they are sold further to earn some profit in the same way watches can also be sold further to earn profits.
You can buy these pre-owned watches from the individual sellers or from dealers who provide best watches at the best prices. These pre-owned watches do not have watch factory warranty but it is the best way to get the best watch for less memory.
Selling And Trading watches
Some rich people engage in watch selling. This applies to watches that are not affordable by people. If you become skilled in the field of trading watches and also in the selling of undesirable watches from your collection it will help in enjoying the luxury watches within a specified budget.
Choosing Japanese Watches As They Are Cheap
You can get the best quality watches at cheap prices. It is possible to get a nice mechanical watch in a few hundred dollars.
Look For Watches from Small Companies
These companies offer good deals on watches and you can get the watches of your choice at an affordable range which suits your budget.
 Conclusion
Thus watches are timepieces which help in keeping a track of the time and also offer convenience and simplicity in managing your daily tasks efficiently. The above mentioned are some of the ways of purchasing a high-end watch within an affordable range. It also helps in fulfilling the wishes of wearing these watches, which is difficult for people to buy.