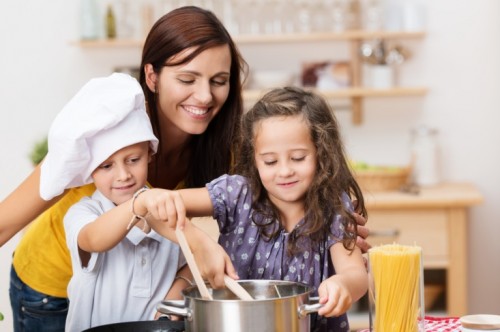 Giving your kitchen a makeover needn't cost the earth. If you're working to a budget that doesn't stretch to a brand new kitchen, there are many ways to make your current kitchen look lighter, brighter and fresher.
A pre-existing fitted kitchen can be made to look like new simply by replacing the cabinet doors and drawer fronts. Turning an existing cupboard into a display unit by adding a glass-fronted door could make a stunning feature. Replacing dark colored doors with light and shiny ones will make your kitchen space seem larger, with light reflecting capabilities to really brighten up the room.
If replacing doors and drawer fronts places too much of a strain on the budget, repainting can be an obvious alternative. Choose light gloss colors, or if your kitchen is solid wood, surfaces can be sanded down and a natural varnish applied to bring out the beauty of the wood. You might be surprised at just how much of a facelift can be achieved by sanding and varnishing.
Adding accessories such as artwork or houseplants can change the mood of the living space, especially if new lighting is chosen to complement them. Choose modern art or reproductions from the thirties or forties; you can create a kitchen that reflects your own preferred style.
Do you use your kitchen space for dining? How about visiting your local auction house to look for a replacement dining table and chairs? You could find a real bargain, either antique or modern, to suit your tastes and add a new charm to your kitchen.
New shelving allows you to display your favorite china; add houseplants, photographs or ornaments. Perhaps use the shelving to display your cookery books to make a feature of them, or keep to hand the plates and bowls you use most regularly.
Accessorizing can breathe new life into a tired space. You can turn cookware into an attractive feature, perhaps by investing in new copper pans and displaying them where they will catch the light. Houseplants and artwork have already been mentioned, but accessories can be both attractive and useful. An organic bamboo chopping board can look beautiful and is hardwearing. Anything from a new knife set to a salt lamp from the budget online retailers As Seen on TV Store can make a feature of a corner without breaking the bank.
Taking the time to look carefully at your finances will help you set a figure to work with for improving your kitchen. It's easier to work within the confines of a pre-set budget. If you have ideas that the budget won't stretch to, such as new serving dishes or utensils, start looking in thrift stores for something that might just match your ideas. A little cash saved here and there by buying pre-loved, could mean you save enough to splash out on that new gadget you've had your eye on for a while.
One way to save money and enhance your environment is by growing and using fresh herbs on the window ledges – taking care to ensure the plants and pots aren't so big as to exclude natural light. Harvesting your own basil, parsley, chives, rosemary, coriander or thyme from your kitchen as and when you need it means herbs will always be at their freshest and most flavorsome.
You might simply change a color theme by investing in new tea towels and napkins; perhaps introduce a yellow theme with these and some fresh flowers. You may have some plain white ornaments that you could spray paint yellow, and introduce a basket of fresh lemons to an otherwise plain surface. Fresh fruit – shiny red apples and purple plums – can be a work of art in their own right. Edible decorations must surely be a wise investment.
Consider replacing tired-looking toasters or blenders. A gleaming blender, juicer or smoothie maker will earn its place on the kitchen surface, adding a modern or retro element, depending on your style choice. Bargains are out there to be had; end of lines, items reduced because of damaged packaging, or simply in regular sales.
Machine washable, non-slip cotton kitchen rugs or runners can bring a splash of color to a plain floor. Perhaps invest in more than one so that there's one spare while the other is in the wash. They'll help keep the floor clean too – a useful timesaver.
Giving your kitchen a makeover can be done on a budget – shop wisely and the rewards can be genuinely worthwhile.