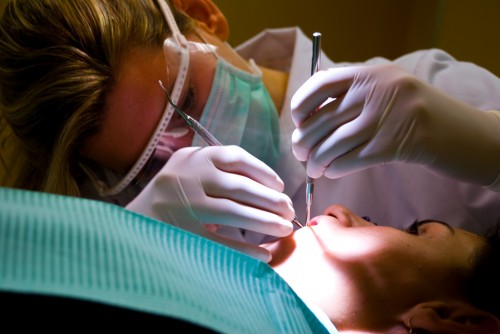 Going to the dentist is scary and not only because many people fear the drill, but also because they're afraid of the cost. Around 57 percent of Americans are delaying dental care they need, even those who have dental insurance. The main reason for this is that it is not always clear how much they will have to pay until after the treatment. The number of uninsured dodging dental care is even higher at around 70 percent. Here some tips to get dental care at a discount.
Consider Dental Tourism
With dental costs rising in the U.S. it might just make sense to make your next dental appointment overseas, even if you have dental insurance. Roughly 1 million Americans head to a country where the price of healthcare is lower to get their dental care each year. In some cases, they are saving 75 percent of their dental costs. Some of the most popular locations are Mexico, Costa Rica, and Hungary.  So how much can you save? Here's an example. In the U.S. just one dental implant has an average cost of $3500, whereas in Mexico it will cost you around $650. A full set of dentures in America will cost you $5,000, in Mexico, you'll pay around $950.
Is it safe to get dental care abroad?
The dental professionals you'll find at overseas locations are all qualified dental surgeons and most of them will speak English. To make it an even easier option, there are plenty of companies out there that offer packages for the full dental tourism adventure. These include your airfare, accommodation, your dental care of choice, and even trips to see the local attractions. Though you may find a better deal if you plan your own trip, having a tourism advocate takes a lot of the stress out of the trip.
One important factor to consider is what will happen if you have a problem with the dental care down the road. Will you have to travel back to your original destination, or is your regular dentist prepared to fix it? This is good to know before you make your decision. You can find out more about affordable dental tourism treatments, both general and cosmetic at Dental Brush.
Get Some Insurance
Buying dental insurance can help you avoid high out-of-pocket dental fees. Although rates vary, affordable plans are available for a low monthly fee of around $25. Most dental insurance plans operate on what's known as a 100-80-50 plan. This means that diagnostic and preventative costs are completely covered. Procedures such as extractions and fillings are 80 percent covered and procedures like dentures and crowns are 50 percent covered. Most insurance plans also have a cap, meaning you are only covered for a maximum amount each year. If your dental fees exceed that cap, you are responsible for the rest of the fees.
Consider a Discount Plan
This is another favorable option. A dental discount plan allows you to pay an annual enrollment fee of around $120 and obtain discounts of between 10 percent and 60 percent on every single dental procedure. There are no annual limits on these plans and unlike regular dental insurance plans, they also include cosmetic procedures.
Ask For a Cash Discount
Many dentists would prefer to accept a cash payment than to have to file an insurance claim. Some may be willing to negotiate discount services for cash-paying customers. You may want to consider asking for a cash discount. Ask the dentist to give you the same rates they give insurance companies. This will typically mean a 10 percent to 15 percent discount.
Avoid Expensive Dental Care 
The best way to minimize your dental treatment fees is to keep regular appointments for cleanings and exams. Preventative dental care can save you significant amounts of money. Periodontal disease is a long-term, low-grade bacterial infection of the gums, bone, and ligaments that support the teeth and anchor them in the jaw. The bacteria are normal inhabitants of the mouth, but when allowed to overgrow, they form plaque and tartar and produce toxins that provoke the body's immune response. When allowed to progress, the disease destroys the supporting structures of the teeth, which eventually leads to tooth loss.
Taken together, tooth cavities (dental caries) and gum (periodontal) disease, create a painful condition that causes tooth loss and is expensive to correct. Americans spend more than $40 billion a year to treat and slow the degeneration of their dental health.
Phoebe Newton is a dental hygienist who loves to help people have healthier teeth. She also enjoys sharing her dental experiences with others online by posting on health and family websites.