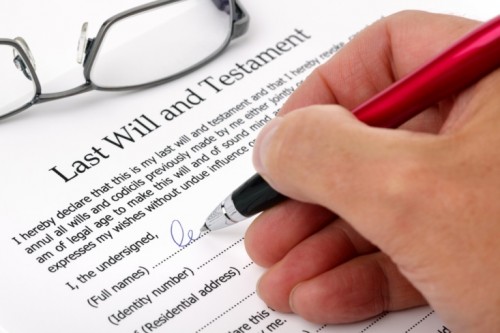 Most people know that it's sensible to make a will and to review it from time to time. So it's shocking to realize from research done in 2016 that most Americans have no will at all, let alone an up-to-date one. Older and richer people are more likely to have a will, but a quarter of even the better-off class of over 55s have not made a will.
Dying without a Will
If you die without a will, then your property passes to your family under the rules that are laid down in State law. Some of those rules can be surprising. For example, most people assume that if a married person dies without a will, their spouse inherits everything. That's not necessarily true. In the state of New York, for example, if you die without a will, leaving a spouse and children, your spouse will only receive the first $50,000 and one-half of the balance of the estate. The children will inherit the rest.
That could lead to real trouble in the case of an estate consisting mainly of a house in the deceased's sole name. The widow's share of the house may not be much more than half of its value. If the family doesn't get on well, the children could force a sale over their widowed parent's head. A small estate consisting only of a house is exactly the type of estate where the deceased is least likely to leave a will.
If you don't face up to deciding what will happen to your property, then the State will do the job for you, and the result may be far from what you would have wanted.
Thinking about the Future
To start your trust and estate planning, the first thing to do is to make a full list of all your assets (including things like insurance policies that won't pass under your will). Then you need to think seriously about what should happen to them after your death.
Very importantly, you should also think about the question of trustees and guardians. If your children are minors, a major reason for making a will is to appoint a guardian to look after their interests. A guardianship appointment can be made to take effect only on the death of both parents. Accidents happen, and if both parents are killed in an accident, children shouldn't be left in limbo, not knowing what will happen to them.
Choosing Trustees, Executors, and Guardians
You need to consider who you want to take care of things after you've gone. You should bear in mind that your trustee will have to deal with a lot of paperwork, even with a small estate. They need to be responsible people, who you can trust to chase up details and finish the job properly.
You can appoint a professional as executor, but then they will be entitled to charge according to their fee scale for any work done. People often prefer to appoint a trusted friend or relative, who can then choose to use a professional as necessary, having obtained quotes and made their own decision.
Family Disputes
Potentially, your executors may have to sort out any disputes that arise.
For example, if your will allows beneficiaries to choose items they want to inherit from your personal things, the executor would need to mediate if two beneficiaries wanted to take the same item. You probably believe that your family would be above fighting about small items of personal property, but it's well-known that families fall out over this sort of thing.
Adult children sometimes have issues with their siblings and parents that have never been resolved, and a death in the family can bring out all that ancient emotional history. So your executor should be cool-headed and wise, and also should have a fair amount of time on their hands. In the case of appointing a guardian for minor children, it's also important that the children and the guardian know and like each other.
Don't Forget to Ask
Before you decide on these appointments, you must ask the potential trustee if they are happy to act. In the case of a guardian for your children, it's doubly important that they understand and fully consent to the appointment for obvious reasons.
All in all, there are very few people who can say that they don't need a will. Anyone who owns a house or a savings account, anyone with children, and anyone with valued personal possessions of any kind, should really find a lawyer and sort it out.
Take recommendations from friends and call round a few lawyers to get a quote for the will. Wills are often reasonably priced, as lawyers will hope to get the later estate business!
Stephan Reed is a digital marketing partner for Holbrook & Manter, a Columbus-based accounting firm.