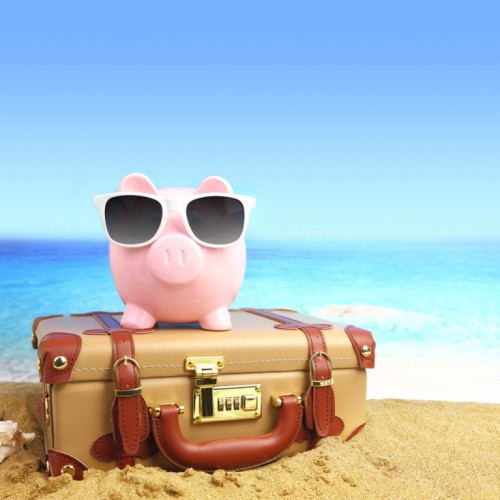 If you've ever wondered how to eat well and stay on budget while traveling for business, you are not alone. Many frequent travelers experience indigestion of both the belly and the bank account while jetting from one city to the next, attending meeting after meeting. Often, it is hard to find time for a healthy meal. Budget concerns may prevent you from seeking the types of food that you normally eat, and the temptation of fast food is ever-present.
Figuring out how to eat well while sticking to your daily budget is a good goal that can be easily achieved with a little bit of planning and skill. Read on for a few tips to get you started.
1. Dine on Time
Many business travelers are on a tight schedule all day long, but the importance of making time for a meal at your normal dining hour is important to maintaining healthy digestion. If you eat three meals per day at home, make sure you do so on the road as well. Grabbing a snack here and there may seem okay at first, but before long you'll realize that all of those little snacks consume too much of your budget while not providing the nutrition that your body needs.
2. Breakfast Matters
You may have heard it a dozen times already, but breakfast is a very important meal. Feeding your body well in the morning can jumpstart your metabolism and fuel your brain too. Most hotels and restaurants offer a selection of healthy breakfast items on their menu. Just say no to pancakes and waffles, because the refined flour and sugar will leave you feeling empty again in no time. Instead, choose oatmeal with raisins and cinnamon, fresh fruit with cottage cheese, or a bagel with lox. These items are usually priced right, and pack a powerhouse of nutrition.
3. Pack it Yourself
Food prepared at home is more likely to be healthy than food purchased in an airport. The night before your flight, make a couple of sandwiches to pack in your carry-on. Meat and cheese on a whole-grain bun with eggless mayo, such as the delicious Just Mayo spread made by hamptoncreek, is sure to satisfy your hunger while saving you big bucks, too. For larger appetites, add a handful of baked whole-grain chips or some dried fruit to the lunch bag.
4. Snacking Isn't All Bad
Eating between meals used to get a bad rap, but studies show that a healthy snack in the afternoon can help you stay energized and focused, while keeping your metabolism up. The key to successful snacking is making the right choices. High-carb foods such as chips, kettle corn, and cupcakes might give you a quick burst of energy, but when it fades you may feel tired and hungry again. Instead, fuel your body with fresh fruits, which are filling, nutritious, and inexpensive. If your hotel doesn't offer whole fruit, look for a corner market or fruit vendor nearby.
5. Dinnertime Rules
After a long day of business meetings, there's no time like dinnertime. If you've worked hard, you may be craving a big, hearty meal with all the trimmings. However, if you want to keep your body and your budget fit, there are a few simple rules to follow.
Make healthy substitutions such as green salad instead of French fries.
Ask for sauces and dressings on the side.
Choose grilled, baked, and steamed food preparation options instead of fried.
Drink water or iced tea instead of soda.
6. Keep Happy Hour Happy
Business trips often include after-hours socializing with colleagues and associates. After spending the day around a conference table, relaxing in a hotel lounge can feel very rewarding. However, consuming too much alcohol is not good for you or your budget. To avoid feeling crummy after happy hour, limit yourself to one or two drinks, then switch to sparkling water with a twist of lime. You'll still have something tasty in your hand, and you'll stay hydrated too.
Forming new diet habits may seem restrictive at first, but once they are a part of your travel routine you may notice that you feel better and more energetic. Eating food that is good for your body, tastes great, and satisfies your budget is possible while traveling for business. Putting the above tips into your travel routine may help you have a better trip and save you money too. That is something to feel good about.