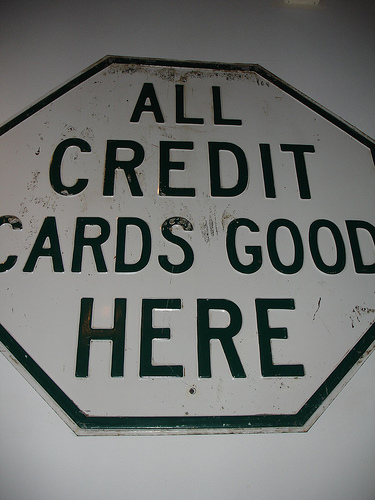 Source: Flickr
By Mala
It is a difficult time when you find yourself below the red line when it comes to your credit score.  And if you find your credit score below 650, it will be difficult to climb the credit ladder.  However,  There are ways to improve your credit score.  Some have a cost associated, but other methods require a little bit of time.  Follow these guidelines to help get out of the hole.
You probably have bad credit because of debt you currently have.  The first thing to do, before applying for credit cards, is to pay down your debt.  That will help your credit rating rise.  Here's another tip:  if renting, ask your landlord or apartment complex management to report your paying on time to the credit bureaus.  The same can be done for your utilities, cell phone included.  After your debt has been paid down to a manageable level, you are ready to begin applying for credit again.
There are a variety of places to start when applying for credit.  It can be for a small specialty card, like a department store credit card.  They usually approve on the spot provided your bank card address and driver's license address match.  Try those places out first, but do not apply for many over a short period of time.  Wait three months in between applying, as those companies will eventually check your credit score out and numerous inquiries into your credit history can have a detrimental effect.
After you have established a small line of credit through department stores, you probably will have the urge to fill out one of the credit card offers that comes in the mail.  Stop!  Don't apply for those yet, as it is easier once you complete one process before.  Banks offer credit cards to those with "less than perfect credit."  They usually have an annual fee or are more like a debit card but with more buying power.  If your credit is bad, and you need a credit card for emergencies or big purchases that you know you are able to pay off, pay the fee and begin to reestablish credit.  Below are some companies that offer these types of programs.  You can visit creditcards.com to see different offers.
Credit cards to look for
The first credit card that is geared for people with bad credit is the Applied Bank Secured Visa Credit Card.  It has an annual fee of $50.00 and a fixed interest rate of 9.99%, regardless of when you pay your bill.  You can have up to $5,000 in credit and there are no income or credit requirements.  You deposit money into this secured account and whatever money is there you are able to spend without the money being directly debited from your account.
Two other credit cards may be more helpful because they do not check your credit report.  First Option Visa and Next Millennium MasterCard offer up to $5,000 in secured credit and have an annual fee of $59.00.  By not checking your credit report, you are able to secure some new credit without it have an effect on your credit report.  Check into both to see which option is best for you.
While you may feel like hope is lost, it is possible to regain your credit reputation.  Keep working on paying off your debt, paying on time, and you will be able to lose the label.