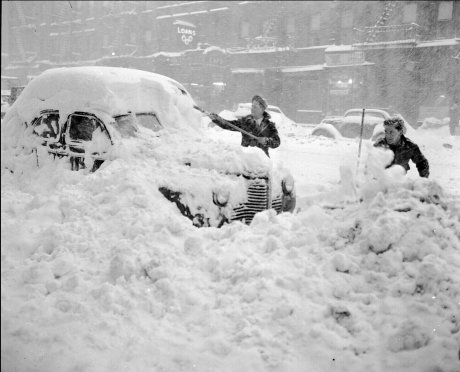 Just when we thought the tides were changing, the clouds were disappearing, and the temperatures rising, we are about to experience the continued winter mess.  The winter storm had made its way across the country to directly hit the Northeast to take away our hops for an end to winter and an early spring.  This mix of win, snow, rain, and sleet even had a brand new icon of its own on the weather sites.  The only thing to describe this is to call it a Snurricane.
Now that the Snurricane has past, March is here, a month of struggle leaving many antsy to the potentials of spring.  To compare March to finances it's like someone who is at the last leg of paying off their debt, seeing the light at the end of the tunnel but knowing there are still some payments to be made.
After the miserable snow filled winter, we finally looked past mistakes of late with not preparing for the weather and finally got ready with clothes, shovels, and extra food just in case.  Sometimes you learn best with your failures, even with your own personal finances.  Sometimes it takes a bad purchase or a little debt to help you prepare and learn on how to improve your own personal finances for the future.
So with the Snurricane behind us, let us all look forward to a positive upcoming few months, both with weather, and our own personal finances.
1. **Snurricane Pick of the Week**
Cash Money Life – Tips for the first time investor to methodically examine his or her needs to determine investment goals, how to invest, and where to invest.
2. Free Money Finance – Managing your money is simple, so simple in fact that if you master two simple equations, you WILL be wealthy. This post details what those two are and how you can apply them to become rich.
3. Claiming Back Tax – This post highlights some uncommon tax deductions which people fail to claim back from the IRS.
4. Oblivious Investor – An explanation of the conflict of interests between personal finance bloggers and their readers.
5. Debt Hawk – Do you often ask yourself what you want out of life? What are your life goals? What career you want to pursue? I know I ask myself these questions all the time. Well, the first day of The Purpose Driven Life turns these questions on their head.
6. BudgetsareSexy – 15 minutes doesn't seem a lot of time (power of less, eh?) but it can do wonders if spent wisely. Esp with finances!
7. BeaBu – Hedge funds became very popular in the last decade. Their trading styles are very diverse and not every hedge fund fits into every investor's risk and return objectives. This article explains the most common hedge fund styles from an investor's perspective.
8. Scordo – 12 tips on how to negotiate on home improvement projects via a contractor.
9. Engage Marriage – This is an honest review of five of the top budget software tools available along with an overview of their features and my opinion on who may find them most useful. I encourage you to check them out and find the one that best meets the needs of your family.
10. Studenomics – It's time to screw all the mainstream advice and look a little outside the box when it comes to personal finance.