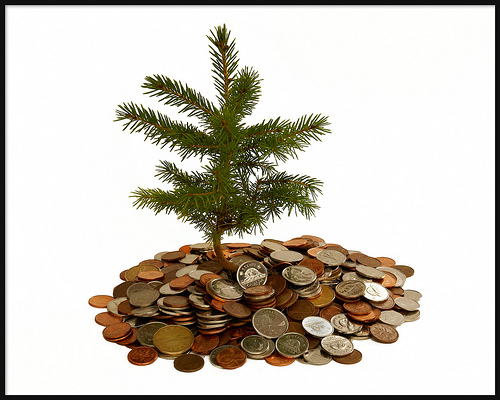 Flickr: Pfala
By Heather Stubblefield
I'm sure this notion is true with all parents:  we want to pass our good habits to our children and avoid our bad like the plague.  I hope that the financial lessons I learned over the course of the past few years can be taught to my daughter while she is growing up.  While a teenager, my parents never talked to me about money.  And, the day my younger sister left for college, I was teaching her how to balance a checkbook.  Education about money should start when kids are young.  While you might want to wait to teach him/her to drive, financial education should start when your child can speak and count.  Below are some tips on how to teach your kids about money.
Be a model
If your child observes you pulling out a plastic card and buying food for 2 weeks, they might wonder when they are going to get their plastic card.  Use cash for purchases every once in a while so that they don't enter a fantasy land where money grows in banks and everyone uses a card for their purchases.
Give them money
It is easier to teach kids about money if they have some.  I see allowance for kids as a reward for being a functional member of the household.  A book I read suggested giving kids an allowance that was commensurate with their grade level.  So, first graders would receive one dollar a week, seniors in high school $12.00.  If they are responsible for keeping their chores in order, you will reward them two-fold, one by giving them money, and two, teaching them about financial responsibility.
Make shopping fun
Use your child's math skills in a grocery store.  Ask questions like, "I can buy 3 of the name brand yogurt for a $1.00 or 4 of the store brand for $1.00. Which should I buy? " This will teach your child about ratios and perhaps raise a question about branding and the difference between brand and generic versions.
Talk about money
With your adolescent (7th grader), begin talking to them about monthly expenses.  If you feel comfortable, when they get older, discuss your salary and where it goes.  It will give your young adult a more realistic idea of finances and help them plan for the future. A budget breakdown may go over her head, but giving her a general idea of your incoming and outgoing expenses will give her a better understanding of the value of money.
Give your child financial responsibility
When I have a daughter that is old enough to work, I plan on sitting down with her and sharing what her father and I have saved to date for her college and wedding.  Kids should not be kept in the dark about the major expenses in their lives.  If my child has her mind set on going to a school that is out of state and her dream wedding is overseas, she should be aware of what type of help she will have.  I wish my parents would have sat down with my now husband and I when we were planning our wedding and dictated what expenses they could afford.  It would have kept us from overspending and we would have made better plans.  I plan to give my daughter a dollar amount for both college and wedding.  She will get both, and if she is smart in school, the money that was set aside will go to her first house, a bigger wedding, or a savings account.  Don't tell your kids; you should be saving for college without telling them what the cost is.  You will be empowering them to make smart decisions about money.