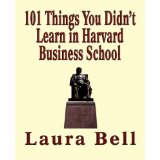 The book  "The 101 Things You Haven't Learned in Harvard Business School"  by Laura Bell is a what makes Economics uncomplicated science and gives details of parameters which runs business, economics and money market in a very unfussy and settled way.
The book gives much elaborated details with great examples from next-door about economic policies, functions, its movements and impact on life. The elastic effect of money and market on economics is very seamlessly explained with interesting examples spread across the whole book.  The example provided using a lady shopper in grocery store explains how hard the price rise hits a customer depends on how much the customer can take or the marginal cost.
 Not to forget to mention the interesting bit about the economist John Maynard Keynes's  and how his theories were  tuned with economic scenarios by different political era's including the current economic scene  where all his theories seems to have failed.
I have always liked to read about economics in regards to entrepreneurship and marketing and I have gotten great knowledge and facts sorted out with the help of this book.  I would highly recommend all to read these sections which stands for  all times.
 Personal finance has always been one of my favorite sections, just to mention that I have comprehended some known facts in a more improved and fine manner. The emphases on saving and issues related to savings are well put along with ideas on ways to cut back spending. The book very rightly said that saving and spending should be inculcated right from childhood in all possible areas and a deliberate effort should be made to make it a habit. The personal finance section also gives the consumers' physiological aspect on time saving and convenience, and how one should use this to fullest from business aspect. 
 The section about teaching our children about work and economics is true and I certainly agree with the author that our education system is only getting the facts and concepts put across in school but not being taught about the real work world. We need to instill these skills and get children to use economics and money skills for their regular routine right from beginning.  The age old concept that "foundation needs to be strong" will help coming generation not to face the same economic disasters. 
 I would highly recommend this book because of it puts economics in simple terms and guides the usage of economics in every aspect of life.  It does so without having to go through the tedious job of studying economics in literal sense. The book has a very great value on sections like personal finance , entrepreneurship and marketing for all who are into starting business and do not have time to go to a business school to learn the ropes of picking up business. At the same time I would have appreciated if we could have some more insight into the ways to face the current economic scenario.
Check out this book and let me know what you think?