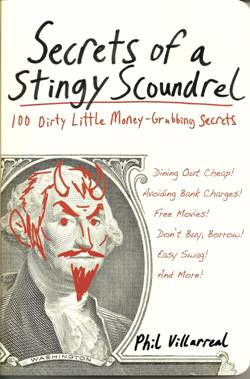 Some try to live by the phrase "if you ain't cheating, then you ain't trying."  Phil Villareal author of Secrets of a Stingy Scoundrel and writer for the Consumerist may not live by that motto, but doesn't stray too far from it when trying to save money.
There are tons of money saving advice books out there offering their two cents, but Secrets of a Stingy Scoundrel is unique, fresh, and ultimately a fun read that will have you thinking twice about certain tactics.
This is a finance book like nothing I have read before, and written by Phil who is just an average Joe Blow guy trying to damn the man and better his situation like the rest of us.
The book is full of funny tips on how you can save money on little things and stretched over certain categories.  Everything from personal finances, to eating, relationships, households, entertainment, and more, his suggestions written in a dry and sly manner depicting sometimes activities that dangle on the borderline of legal and moral ethics, will have you laugh out loud.  Nothing is down right illegal although could get you dirty looks by some and slaps from friends.
For example he talks about staying in the movie theater for an extra show to see a double feature, borrow money from friends and pay back in other ways, of things like I have actually done myself like get the free 2 weeks of rentals from Blockbuster and then cancel the subscription.  He manages to take a lot of saving tricks that people think of and put them down on paper in one quick, funny, and informative read.  I recommend reading it, but try to borrow it so you can save money on not actually having to buy the book, ha.  Phil would understand.