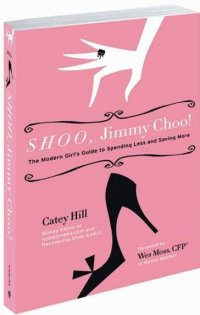 Generation Y has entered he workforce and has brought a new attitude and lifestyle to the work/life balance.  Work and career advancement are important but we don't want to dedicate our lives to working, we want to enjoy our lives, especially in our 20's and 30's.  Of course having a good time sometimes requires spending money, as our social lives and material wants are important to us.
That doesn't mean you have to go broke to have fun and buy what you want.  Catey Hill, money editor of nydailnews.com presents a way to save and spend in her book SHOO, Jimmy Choo! Now I am clearly not the target audience for this book as it is described as The Modern Girl's Guide to Spending Less and Saving More, but that doesn't mean a lot of the practical advice wouldn't apply to everyone in this age range.
She takes personal financial advice and writes it in a fashion (pun intended) that is engaging and fun.  She strips down the intimidation that finance usually bring and uses situations that are very realistic to girls like shopping and going out for dinner that girls can relate to.
The book is full of good advice with regards to saving for the future both retirement and general investing funds and even offers recommendations and steps on going about setting accounts up.  There are even pages designed and set up for you to input your own data to help you budget better and get a better idea on your own spending to help keep yourself organized.  This book really is the keys to drive for your financial success.
I compare this book to Ramit Sethi's "I Will Teach You to be Rich" in how it relates and speaks to a generation Y audience.  The toned down information in this book is perfect for any girl in her 20's and mid 30's looking to get a handle on their personal finances.
Check out the book and let me know what you think.