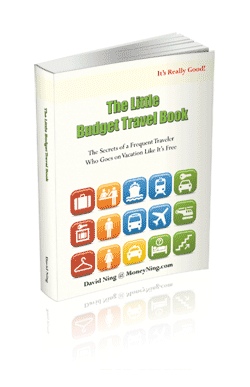 One of the things I love to do more than anything is to travel.  It's almost like a drug to me.  Ever since I studied abroad in Spain I just want to travel to new places, learn about new cities, cultures, mingle with the locals and of course eat the food.  Traveling is a life experience that many share the same passion for it as me and believe it is something worth spending money on.  I agree, life experiences are worth the money and the memories are truly priceless, but that doesn't mean you can't be frugal and enjoy yourself as well.
I recently read "The Little Budget Travel Book" by David Ning (@moneyning), writer of the very informative and helpful personal finance blog www.moneyning.com.  He was inspired by his own love for traveling and after getting many questions and requests from users about tips, he put together this little book to help everyone.
The book consists of short tips about various aspects of a whole trip and covers everything from planning, how to get places, and what to do when there.  Broken down in sections keeps things organized.  If you are looking are looking for a specific tip for example on renting a car, you can look it up and see what may be applicable.  The book works best for quick tips on the go when you may need one.
The tips are very simple and can be used by anyone from families to backpacker's.  The tips are designed to save some time and a few bucks and in some instances can even improve your vacation experience, like finding a hole in the wall restaurant from mingling with locals opposed to going to the hotel recommended expensive touristy restaurants.
A few tips he mentions I have practiced on my own travels in the past to save money, and they are true.  Something as simple as taking the bus from DC-NY instead of by train or plane makes sense and saved me money.  Or when in another country I would eat larger lunches and smaller dinners because dinner can be expensive and add up.
What's great about the book is that its small and compact so you can actually travel with it without it being a burden, and you can easily access it when needed.  He also does a great job at reviewing multiple sites where you can save money on your travels from flights, hotels, and more, helping you decipher which site may be the best to explore for your needs.
If you love traveling and like saving money, check out this book.