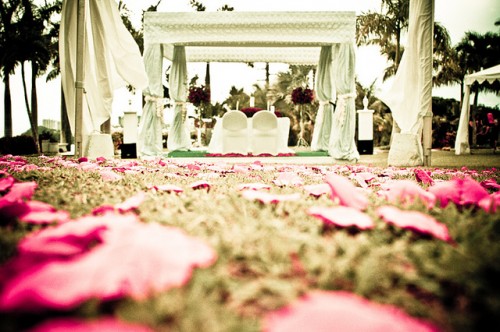 Nothing's worse than having something go wrong before or during a wedding. So, here's the top flower mistakes most people make and how to avoid them.
You Don't See The Big Picture
When you choose flowers for the centerpiece, don't forget about the view. If you've chosen an outdoor location, this becomes even more important. Many brides get obsessed about the way the venue looks, and then when they get the flowers, they don't realize that they've just ruined the view for the guests.
If you plop down a huge centerpiece, guests won't be able to see each other, or the wonderful venue you've chosen.
You Don't Trust Your Florist
You should absolutely communicate what you want to your florist. But, realize that this person is an expert at what he or she does. You want your florist to show off their talent. After all, this is what you paid them to do.
You're Being Wasteful
You're being too wasteful if you buy flowers for a single purpose and then chuck them afterwards. Case in point: Aisle flowers. They can be turned into centerpieces after the ceremony. Yet, so few brides do this.
If you buy wedding sparklers, those can be incorporated into the centerpieces too, long after people are done showering you with rice, sparklers, bubbles, or what have you as you exit the ceremony.
You Won't Compromise
One of the biggest mistakes people make is to have their heart set on specific flowers and then become inflexible about choice. When you get your heart set on something, you're setting yourself up for disappointment. Be flexible.
You Won't Spend The Money
Don't be afraid of expensive flowers. If you want peonies or orchids, you may end up paying more. But, they'll also cover more space and be more impactful overall.
You Don't Communicate
Some brides won't listen to their florists. Others make the opposite mistake. They won't speak up – ever. Knowing what you like is sometimes more important than knowing what you don't. You should have photos, drawings, or a "wireframe" of how you want the venue and ceremony to look.
You Only Use One Color
A lot of brides will want the flowers to match the bridesmaid dresses. But, matching flowers don't always look so good in pictures. In fact, they might blend in and you'd miss a perfect opportunity for accent colors.
You Choose Strong Flowers
You might want the entire venue to smell like lilies. But, if your guests have allergies, that would be a terrible idea. Instead of choosing highly aromatic flowers, opt for something that would be easy on most guests. Even flower lovers can get too much of a good thing.
You Don't Take Care Of The Blooms
The average lifespan of hydrangeas out of water is about 3 hours. If you're not keeping your flowers hydrated, they'll look terrible and might not make it through all day taking pictures.
You Forget To Budget For Them
Don't forget to call your florist, book one in advance, or set a budget for flowers. Many brides want good flowers for their wedding, so you should include them in the budget from the very beginning.
You Try To DIY
Brides who try to DIY their flowers often get overwhelmed. A lot of times, a DIYer will find that it  was cheaper to hire a professional. Don't try to DIY your flowers. Go with someone who knows what they're doing. Sure, it's expensive. But, it's worth it.
You Order Way Too Late
Flowers come from Holland, South America, and all over the world. Don't think you can wait until the last moment to buy them. They may need to be shipped in from somewhere, and it may take one or two weeks before they arrive. Give yourself a 6 week lead time (at least).
You Overlook The Linens
Don't get so focused on the flowers that you forget about linens. It sits directly under the flowers and compliments them. From runners and underlays to overlays, your linens will be the thing that makes your flowers pop and look like they belong.
You Choose An Oversized Bouquet
Bigger is better, right? Well, not always. What many brides don't realize is that the bigger you go on flowers, the more it ends up covering their dress – that dress you spent all that money on and want to look fabulous in.
Also, you have to think. You'll be carrying that big bouquet around with you for the whole ceremony, during pictures, and then up until the bouquet toss.
Mathilda Jameson is a wedding planner. Ever since she was a little girl she dreamt of weddings, and when she grew up, she still couldn't stop those thoughts, even after getting married herself! She writes on all things bridal for women's lifestyle and wedding blogs.