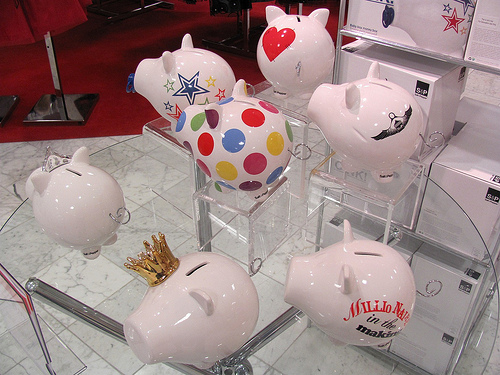 There is often huge disparity when it comes to salary levels and many of us, from retail and food service workers to a fair percentage of public sector workers, all have to budget to make the most of their income.
There are some ways to boost your salary, such as signing up for teacher recertification courses, for example, but in the meantime, here is a look at some crafty ways to stretch your money and make the most of whatever income you have.
Using cash is a good discipline
Carry cash around with you might seem a bit old fashioned when you look at all the cashless alternatives available, including even paying for things with a smartphone app, but paying with "real" money does normally make you more cautious with your spending.
Try visiting the ATM before you go to the grocery store and draw out how much cash you can afford to spend. It will almost certainly stop you adding some of the unwanted and unnecessary items to your basket that you will probably be tempted to add if you were paying by card.
Everyone seems to be encouraging us to move towards a cashless society, but when you are paying for things with cash, it will almost certainly help you to slash your food bill and show a lot more restraint, than if you were charging purchases to a card.
Try it for a few weeks and see what a difference it makes to your bank balance.
Loyalty doesn't always pay
If you have been on the same cell phone or broadband plan for several years, there is a big chance that you are paying more for your service than you need to.
Cell phone plans are constantly being updated and there is a lot of competition between providers, which means that you should be able to find a cheaper and even better deal than you are currently on, if you put in the legwork.
Use some comparison sites and don't feel any sense of loyalty to your current provider, as they are unlikely to be giving you the best deal if you have been with them for a while.
Check out all of your monthly contracts and look at how much money you could be saving if you switch to a better deal.
Small savings add up
If you are trying to make do on a small income, the idea of putting some money away in savings might seem a bit fanciful.
The trick is to think small and be prepared to put small amounts away regularly, which can accumulate into a reasonable amount of money, quicker than you might think.
A good trick to employ for example, would be to skip that regular coffee you buy on the way to work, and make your own to take with you instead. If you put the money you would have spent on the coffee away in a jar each day, you might have close to $100 by the end of the month.
Suddenly you have created a regular savings amount that you can put away, without earning any extra, but by making a small sacrifice or adjustment to your regular spending habits.
These small acts can turn into big sums of money and allows you to put some money behind you when you thought that it might not have been possible.
Supplementing your income
Teachers are an example of someone who is working in a profession but might not always manage to earn enough money from their job to be able to support their family.
As you work your way up a profession like teaching, it should be reflected in the salary that you receive. Starting out in teaching on an average salary that might be around $35,000 annually, often prompts qualified educators with a family to support, to seek out extra work to supplement their income, like waiting tables.
If you are in a profession like teaching, where you can earn more as you become more qualified, it makes sense to target some courses that might bump up your pay grade, by more than you would earn working part-time after you have finished your day job.
Many of us have to live on a budget, but how you manage your budget and what you spend your money on, can make a big difference to your bank balance each month.
Take a look at your expenditure and see where you could make some savings and improvements, if you want your money to go as far as possible.
Joseph Baca is a 20 year veteran of the public school system, in middle school and high school settings.