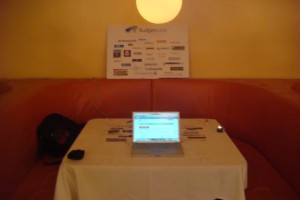 Frank Gruber of Somewhat Frank put on another incredible event last night at Left Bank in Adams Morgan in DC where the entire tech community of DC took part in the fabulous quarterly event known as Tech Cocktail DC.  Start-ups from around the area present and demo their sites in at a very casual and fun happy hour networking event.
BudgetPulse was lucky enough to be selected and I took charge and met so many great people in the DC area and explained how BudgetPulse could help them and to talk about our brand new savings goals function.  The people I spoke to were very impressed with the tool and everything we have accomplished before and agreed that there is a need for an alternative to the tools that sync such as a Mint.com.  Our efforts to reach an international audience as well impressed them.
They loved the new savings goals function and how its integrated with the personal budgeting software allowing for you to raise money and budget all in one centralized location.
The event was great and I  had so much fun seeing the familiar faces and catching up with others to hear about what projects they are working on.  The DC teach community has really come into its own and their is so much innovation and smart minded people here.
I can't wait for the next event.  Here are some pictures of the event from last night to share with you.