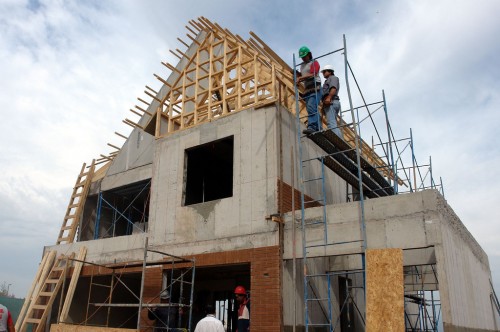 Having your home constructed to your own design is something that many homeowners aspire to and the chance to own a property that has been built to your personal specification is something that is very appealing.
Using someone like custom home builder, Bill Beazley and other builders with specific experience of the custom homebuilding process should help things to go more smoothly, but you also need to take on the challenge fully aware of what lies ahead before the time comes to collect your keys and move in.
Know your budget
So many self-build projects tend to go over budget, mainly due to the fact that the original estimations were unrealistic or because unforeseen expenses crop up during the building process.
Using a builder who has experience of what is involved and has a good understanding of what costs are involved will definitely help, as will knowing how much you can truly afford to pay for your dream home.
Some people may have the cash available to fund the project without any financing while others will need to get help from a mortgage company in order to pay for some of the project.
If you need mortgage finance to turn your housebuilding dreams into reality, it makes sound sense to try and get preapproved, so that you know exactly how much you have to spend including the cash funds that you have set aside for the project.
Other factors to consider
When working out your budget, there are a number of basic costs that you will need to factor into your calculations.
If you have already bought a plot of land ready to build on, that is a big step in the right direction. You should however be aware that is the ground is not level or considered safe in its present state, you will have to factor in the costs involved with preparing the land ready to build on.
Floor plan
Your floor plan is crucial not just because it represents the vision of how you see the idea layout and the rooms that you would like to have in your home, but it also has a big impact on how much the building project is going to cost.
The main point to consider when working on your floor plan with an architect is that the more complicated the layout and twists and turns you incorporate into your design, the more this is likely to cost you in labor and materials when the time comes to bring your plans to life.
Materials
The cost of materials can vary dramatically depending on the quality and type of finish you are looking for.
It probably goes without saying that materials are a fundamental and major part of your costs along with labor. Whether you have hardwood floors or carpet and whether your faucets are high-end or budget are just two examples of how you can make substantial savings or go substantially over your budget, if you don't make the right decisions on what materials you are going to use.
The problem for many aspiring self-build homeowners is that having got to the point where you are ready to have your dream home built, it is very difficult to compromise on the quality of fixtures and fittings.
You may have to weigh up what is important to you and what you could do without if the budget is tight.
Insulation
Having got your home plans off the drawing board and into solid bricks you will also need to make sure that the ongoing cost of heating and maintaining your home is affordable.
This is why it pays to ensure that you allow for good insulation in the attic and to use double glazing for the windows. Trying to incorporate as much natural light as possible will also not only make the house seem light and airy, but it will help with your utility bills too.
Garden space
Everyone wants an attractive garden space in order to compliment their attractive house that has just been built.
The problem for some is that a landscaped garden can soon blow a big hole in your budget, so you may have to put your landscaping plans on hold until you have checked how your budget is faring.
There is no great shame in postponing your landscaping plans until after you move in to the house, if it means that you can stay within budget and get the inside of the property just how you want it.
Bill Beazley has been building new homes in the Augusta, Georgia, area since 1976. He has been recognized numerous times by the Home Builders Association as Builder Executive of the Year for the continuous contributions he has made to the development of the counties in which he builds new homes. With more than 30 years of hands-on experience, complemented by an experienced staff, Bill Beazley has the expertise, knowledge and commitment to make the purchase of your new home and the building process easy and satisfying.