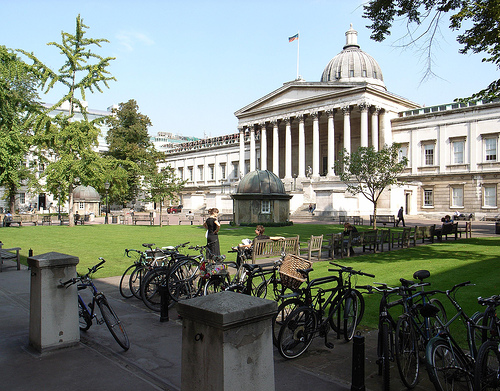 Flickr: Steve Cadman
By Heather Stubblefield
For today's savvy planners, that first positive pregnancy test brings all sorts of changes.  For me, immediately following my daughter's first cries, money was put into a 529 plan.  A 529 plan is like a 401(K); however, its sole purpose is for the beneficiaries' education.  There are many things to consider when choosing the perfect 529 plan.  Here are things to look for before you hand a penny of your hard earned money over.
If you are like me, you want to begin saving for your child's college fund when they are very young.  That way, when their high school years begin, you have a realistic picture for them as to what types of goals they need to set for themselves.  If your child wants to go to an Ivy League school and you have enough saved up for an in-state college, they will need to know as a freshman that they need to get good grades to ensure a scholarship is awarded four years later.
When choosing a 529 plan, you want a company that has age based options for your money.  Since money in a 529 plan is invested, age based options are in place to manipulate what type of investing you are doing.  A baby is extremely far away from attending college, so more aggressive investing is o.k. because the risk is low that you will lose that money as your child ages and gets closer to college.  The same can be said about your junior in high school.  You want to be able to have very conservative investing then so that your college egg does not break.
Another thing to research is the company's record of return.  This refers to their rate of success in increasing the money you have put in.  You don't want to choose a company who has recorded a small amount of returns and a lot of losses with their client's money.  All of this information is public record, so do not hesitate to investigate numerous state's plans.
In referencing states there is a small amount of guesswork that goes into choosing a 529 plan.  You would like to invest your money in a plan that is geared for where your child is attending school.  You do not have to live in the state to put money into their plan.  For example, Utah has been heralded as having a great 529 plan, as does Ohio.  But, if your 529 plan is rooted in Ohio and your child's heart is set on a school in Michigan, you will pay a penalty for withdrawing your money.  The way 529 plans work is instead of you getting the money, the plan pays the bill directly to the public college.  This is why the state you choose for your 529 plan is important.  Make sure the penalty is not big if you need to withdraw the money because your child chose a school in a different state.
While most things done surrounding 529 plans involve investing, it is important to make sure your company offers some guaranteed returns.  These can be in the forms of CDs or another savings option.  That way, you know for sure what money is there and can give your child a more realistic picture of how to plan and pay for college.
It may seem scary, but the sooner you begin a 529 plan for your child, the easier those high school years will be when your child wants to go look at colleges one summer.  Be prepared, do your homework, and you will set your child and your bank account up for success.