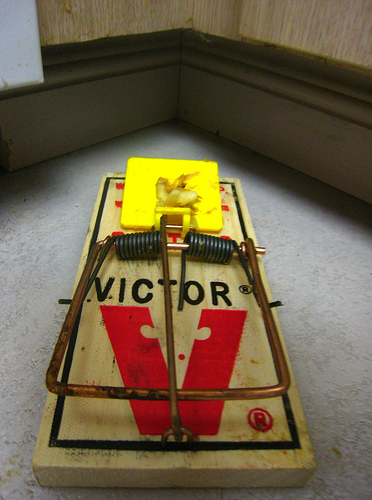 By Heaven Stubblefield
Source: Flickr
Once a student leaves home for college, they have a lot more freedom than what they've been used to and even if their parents have tried to prepare them for the outside financial world, it would be impossible for them to prepare them for everything.
Unless they arrive on campus with a scholarship, the college student already starts in the hole with college loans, just so that they can get an education. They are immediately burdened with debt. But this is an expected debt that either they get loans on, parents help pay for, or they work their way through college.
It's the freedom that they gain after leaving home that generally sets the traps for these wide eyed kids hitting the "real world" on their own. A lot of credit card companies are ready and willing to give the student access to instant credit with credit cards, and this then leads to the student feeling as if they have even more freedom to do as they wish, without thinking about the consequences these cards can bring them.
Some things that are easy to get with credit cards is clothes and stylish clothes especially. A student should stop and think before they go hog wild when it comes to clothes shopping. No one of course expects a student to dress like a bum, but they really need to try and avoid getting themselves in debt over a new wardrobe.
Once a student is on their own, they suddenly want to explore new lifestyles and sometimes this drags them into yet another debt trap. Students have a tendency to try and live unrealistic lifestyles in an attempt to keep up with the "in crowd". To avoid this they need to make sure that their activities and hobbies don't over extend their income, if they even have an income.
Students tend to love to go out and party. Of course we know it's to let off steam, relax and have fun for friends. There's nothing wrong with this, but a student may forget just how expensive this can be if they begin doing it several times a week. They need to sit down and figure out exactly how often they really can afford to go out so as not to over extend themselves financially. In order to keep from over extending their budgets, a student should probably consider going out once a week to maybe every two weeks.
A big thing that students tend to depend upon is the idea that they will be rich some day and that they can take care of all their debt once they are out of school and have gotten a job. Something they don't take into consideration is the harsh reality that they may not find a job in their career field right away. In fact in some cases, they may never find that job.
Another debt that is common for a student is their cell phone bill. After leaving home, a student may want to be in contact more with their parents. Along with that, they will be making new friends that they'll be in contact with on a regular basis. If the cell phone activities go unchecked, the student could find themselves in debt with their cell phone. The wisest thing for a student to do is find a cell phone that offers free minutes with their plan and try not to exceed the free minutes. Another suggestion would be to get a cell phone that has a pay as you go plan to eliminate the possibility of a huge phone debt.
Overall, it is possible to handle debt while in college, but it takes a bit of dedication. As long as a student realizes what money is coming in and going out, he or she should be set for the future. The internet offers a chance to manage money through budget software, like that on Budgetpulse.com. If you feel like you need to manage your costs in college, check into your options.