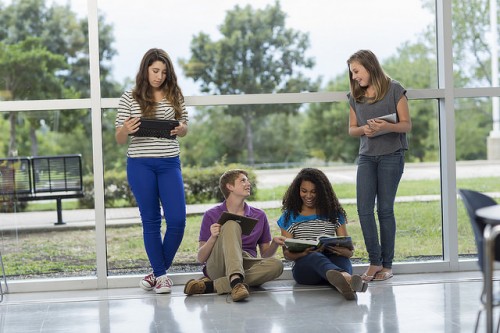 Being a student is about so much more than just going to university. There is an entire lifestyle that goes with being a student, and unless you are lucky enough to still live at home and go to college at the same time, you will have to make some major adjustments in your life. Of course, the security of money is gone, and dealing with all the expenses of being a student can be an absolute nightmare. Some even get as bad as defaulting on their student loans, which leads to a whole other range of problems. Sure, there are things like Loan forgiveness programs, but they only bandage the problem, they don't fix it. The problem lies with students and them not being able to properly manage their financial resources. While such programs can help you out now, you will go right back down unless you make some changes to your life habits. Here are some easy and useful tips on how to manage your funds as a student.
Used textbooks do just fine
Having textbooks is important for your courses, but they don't have to be all new and shiny. As long as the information inside is readable, it's the same the one in a brand new book. By replacing the new textbooks with used ones, you can reduce your textbook expenses significantly. Keep in mind that they come with an expiration date, in the sense that after you're done with your studies, they won't be of so much use. So don't be afraid to just buy or rent used ones.
Only go shopping after you've eaten
The worst thing you can do as a student is go shopping for food before you had a chance to eat. By doing it while you're hungry, you will get the impulse to throw everything you see into the basket. It's not logic speaking, it's your current state of hunger and craving for delicious foods. If you go grocery shopping after you eat, you will be able to avoid such impulses and only get the items that are essential or that you've gone to the store for in the first place.
Save a lot by not smoking
If you ever wanted to quit smoking but couldn't find a good enough incentive, how about money? You'd be amazed of just how much money you can save monthly just by cutting out smokes and other vices like drinking. But you probably have a good idea based on how fast the money in your wallet is dissolving.
Use public transportation
Having your own vehicle is so convenient and enjoyable, but it comes with great costs for both repairs and maintenance. For better or worse, you don't care what happens to the bus after you hop off, and you only need to pay for your ticket.
Go back to the basics
If you have active subscriptions of any kind, particularly cable or things like Netflix, make sure to go for the basic package. You can give up some of those fancy, less essential items on the list in favor of being able to pay for your next meal.