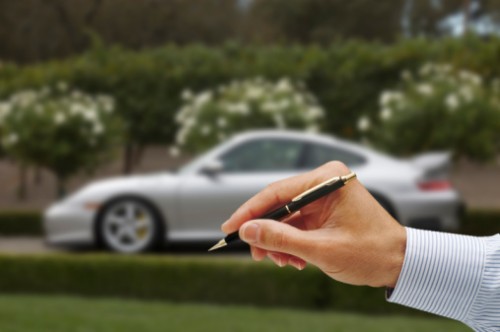 Insurance. Yuck.
Who wants to spend more time researching insurance options online. Everyone says basically the same thing anyway, right? Best rates. Best service. Yada, yada, yada. The problem is, because most people don't shop around and pay attention to their own policy, they make tons of mistakes when buying. Here are just a few of the most common myths people buy into, and how it harms them.
Myth: Color Determines Auto Insurance Rates
People have been conditioned to believe red cars mean more speeding tickets and higher insurance rates. It's a myth.
Maybe it was some T.V. show that got them to think that way or perhaps it's the fact sports cars are often red, people who drive sports cars tend to be younger and fast drivers, and thus pay higher insurance rates.
It doesn't matter. The color, that is. What does matter is the type of vehicle you own and your driving history. What you pay for insurance is based entirely on the make, model, body type, engine size, age of the vehicle, and your age, driving record, and credit history. Premiums are also based on the price of the vehicle (partially), the costs associated with repair, and the overall safety of it.
If you drive a vehicle that's difficult and expensive to repair, you better believe the insurer will charge you more. Why? Because it costs more.
So, if you want lower rates, buy a car that is easy and cheap to repair. This means you must buy a vehicle that's ubiquitous and where there are a lot of mechanics that can easily service it. That creates competition for business, and competition generally lowers prices in the marketplace.
As for your driving habits, make sure you're following all the basic rules of the road. According to  The Trial Lawyers at Craig Swapp & Associates, most car accidents are caused by distracted driving. So, the more you focus on the road, and maintaining good driving habits, the lower your risk of ending up in an accident and thus the lower the risk of your premiums jumping by significant amounts every year.
Larger, more powerful engines tend to attract higher insurance premiums. Insurance companies tend to associate more powerful engines with more risk because it lets drivers get into trouble more easily. Want lower rates? Stick with conservative vehicles.
Myth: It Costs More To Insure You When You Get Older
For the most part, this is untrue. Many drivers over 55 get a reduction in auto insurance rates. This is especially true if they successfully completed an accident prevention course or defensive driving class. These are usually available through AAA or AARP. Insurance companies usually give drivers up to 10% off their car insurance for taking these courses. However, many times, they do not advertise the fact.
If you're retired or not employed full time, you might also get a discount up to 5% off your car insurance. Age requirements for this type of discount vary by each state and by the insurer.
Myth: Your Credit Doesn't Affect Your Insurance Rates
This one probably scares a lot of people, and rightly so. Your credit-based insurance score does matter. Why? An insurance score measures how well you manage your financial affairs. If you have a low credit score, it means you probably don't do important things like pay your bills on time. You might not be the most responsible person in other areas of your life, either.
Because the majority of people have OK credit, and insurance scores are derived from credit history, most people end up paying less for insurance when those scores are factored into the equation. But, if you happen to have a low score, it can affect your insurance rates.
Myth: Your Insurance Won't Cover Theft Or Damage From A Tree Or Natural Disaster
This is something not a lot of people understand. If your vehicle is vandalized or damaged by a falling tree, hail, flood, or fire, you can get covered under comprehensive insurance. If your car is worth less than $1,000, or less than 10 times the insurance premium, buying the extra coverage might not be very cost effective. You'll need to buy collision and comp to protect your vehicle from all types of damage. But, for things like a deer hitting you while you're driving over the hills and through the woods, comprehensive will protect you.
Myth: You Only Need The Minimum Amount Of Liability Coverage
Most states specify a minimum amount of insurance you must carry. Chances are you'll need way more liability insurance than the state requires because accidents often cost more than what you've covered under minimums. Buying the lowest amount of insurance means you've retained a lot of the risk of a car accident. If you get into a serious fender-bender, you may have to pay out of pocket for damages.
Those costs can skyrocket, too. The insurance industry generally recommends a minimum of $100,000 bodily injury per person and $300,000 per accident.
Naomi Turnbull has worked in the auto insurance industry for several years and enjoys sharing her industry knowledge in her articles which appear online at car and personal finance sites.