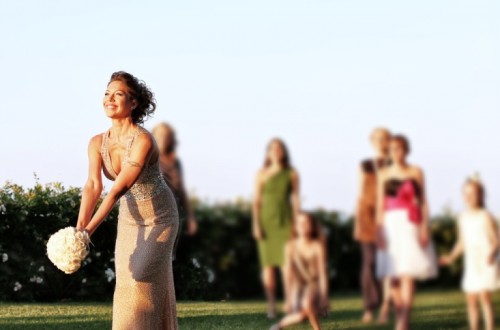 You've got your invitation, you've purchased a sorority dress, and you have time off so that you can attend your best friend's wedding. Now all that's left to do is come up with the perfect gift. It's not likely that the couple will need a toaster and you don't want to get them something that others will be getting them too, but—whether the bride or groom is your best friend or not—it can be hard to come up with a wedding gift that is creative, useful, and isn't cliché.
More and more often, couples are asking for cash instead of gifts, perhaps because they want to avoid having to return the ones they won't use, or perhaps because they aren't quite sure what they want. Despite the request for cash, though, anyone can appreciate a good gift. Whether you're part of the wedding party or attending as a guest, here are some of the most creative and usable gift ideas that you can give to the happy couple:
Anniversary Wine Box
No matter what anniversary, whether it be the first, fifth, or 27th, there's always a reason to celebrate, and you can be part of the celebration the day they seal the deal and for years after that with an anniversary wine box. Anniversary wine boxes can typically hold up to three bottles of wine, so all you have to do is choose the one you like, have it customized, choose which years you want each bottle to be for, and pick out a few bottles of your favorite wine. Then, for each year you've chosen, they'll have a bottle of wine to enjoy on their anniversary and think back on the day they made their vows and remember the part you played.
Magic Wand Remote
Whether the bride, the groom, or both are Harry Potter fans or big lovers of magic, a magic wand remote is a perfect gift to give. It's fun, it's frivolous, but it serves a purpose and will likely get used on a daily basis. The remote can be programmed to any TV and then used to change the channel, the volume, or turn it on and off, all at the flick of the wrist. And if they want to recite spells or incantations while surfing channels, the remote will give them an undeniable excuse.
Snack and Play Gift Basket
Gift baskets filled with wine, cookies, crackers, and snacks aren't necessarily uncommon at weddings, but you can get creative and take it a step further by creating your own that has a second layer that no one but the couple will see. On top, you can place crackers, cheeses, meats, fruits, wine or champagne, chocolates, and other goodies that the couple can enjoy later that night and throughout the week, but underneath you can fill the basket with items meant for the honeymoon. From whipped cream to other classics that can be found at any drug store, it will be a fun inside joke between you and the couple.
Scratch Off Map
If the couple whose wedding you're attending loves to travel, then one of the best and most creative gifts you could give might be a scratch off map. As they start their new life together and begin traveling as a couple instead of alone, they can scratch off the states, provinces, and countries that they've adventured together, and keep it on their wall as a reminder of the memories they've made and ideas on where they can go next.
A Quilt or Throw
A quilt or throw may not be the most creative gift, but it can be creative if you make it yourself. Even if you don't, quilts and throws make great wedding gifts since they can add to décor and have a practical use. Whether the couple uses it on their bed, keeps it on the couch to keep warm while watching TV on cold nights, or keeps it tucked away until a guest comes and needs an extra blanket, they'll be glad to have it.
A Tool Set
A tool set is probably one of the least romantic gifts you could think of, but it's creative, unique, and usable. Unless one of them love working with tools and has been collecting some over the years, odds are they won't have what they need—especially when they go to buy a house of their own. A tool set that includes the basics like a hammer, measuring tape, a few screwdrivers, a wrench, etc. is a very creative and practical wedding gift.
A Streaming Service Subscription
After a long day at work, few things beat coming home to your sweetie and enjoying a few episodes of your favorite show before bed. If they don't have any streaming services already, or only have one, purchasing a yearlong subscription to Hulu, Netflix, or another popular service can be a great gift to give the newlywed couple.
Final Thoughts
Coming up with the perfect gift for a wedding can be hard to do—even if you know the bride or groom well. You want to make sure your gift is unique, isn't cliché, but will still be usable and something they can enjoy. From anniversary wine boxes to subscriptions to streaming services, there are several creative gifts you can give your friends that they will remember forever.
What gift do you plan to get?