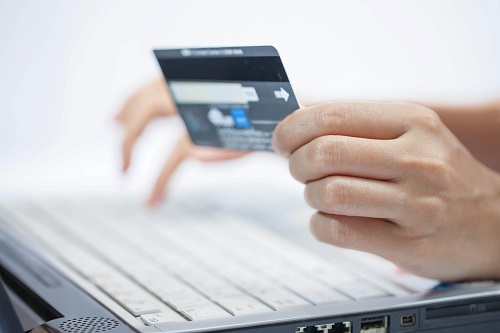 When used properly, credit cards can be an effective financial tool to help pay for large purchases or to otherwise provide financial flexibility. However, when used inappropriately, they can cause you to spiral into debt quickly. Let's take a look at the pros and cons of using a credit card and how you can use them responsibly.
Credit Cards Offer Discounts and Other Perks
One of the best reasons to use a credit card to make a purchase is that you may be able to score a discount. The amount of the discount depends on where you are using the card. For instance, you may be able to get 5 percent off at your favorite online retailer or 1 percent off of your next grocery purchase. It may also be possible to get airline points that can be redeemed for free tickets or upgrades once you get on the plane.
Credit Cards Can Help You Increase Your Credit Score
Paying down your credit card debt balance each month can help you increase your credit score. This is true whether your score is below average or is close to 800 already. Your score is likely to increase because it is calculated based on making timely payments and based on your credit utilization rate. Ideally, you will keep your utilization rate below 30 percent of your total available credit and below 30 percent on each card that you have.
Credit Cards May Be Difficult to Repay
While paying down your credit card balance each month improves your credit score, failing to do so can result in significant interest charges. Depending on how much you owe, interest charges alone could result in hundreds of dollars being sent to your lender without paying down your principal balance. If you allow your principal balance to keep ballooning, it may be necessary to file for bankruptcy or pursue a debt settlement to pay it off.
Bankruptcy Can Hurt Your Credit
If you file for bankruptcy, your credit score could drop by 100 points or more. This could make it difficult to get credit in the future, find a job or get the best rates on insurance products. It could also make it harder to get a mortgage for several years after filing for bankruptcy.
You're Spending Money That You Don't Have
Using a credit card is essentially using money that you don't have to make a purchase. This can be detrimental for a variety of reasons. First, because you have to pay interest, it increases the actual cost of any purchases made. Second, it gets you into the habit of spending above your means, which can be difficult to break.
Finally, if you do have to file for bankruptcy because of too much credit card debt, it will likely mean paying higher interest rates or other fees when applying for credit in the future. If you do choose to refinance a mortgage or take out a personal loan to refinance the debt, it could put assets at risk if you choose to secure the loan.
It is critical that you understand how to manage your finances as it can have a profound impact on the rest of your life. When you owe money to lenders, it can make it harder to leave a job, get medical care or even sleep at night. If you are struggling to keep your debt to a minimum, it may be a good idea to speak with a credit counselor or another financial professional for guidance.