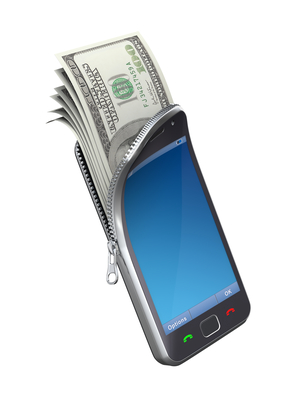 Remember the days without cellphones and smartphones?  If not, then you won't remember when a phone bill was under $50 per month.  Today, bills can easily exceed $200!  However, you don't have to pay a lot to stay connected as long as you learn ways to cut costs and slash the price of your bill.
No Contract
Do you need a contract to own a cellphone?  Yes, you can save a lot of money on a new phone if you do sign up for a plan, yet over time, you will probably save more money by taking a no-contract deal and paying full price for the phone.  The phone is an upfront cost, but do the math when considering signing a contract.  You may find that you'll save a little the first year and a lot in the years to come, not to mention having flexibility.  When under contract and want to switch carriers, you'll have to pay a heavy fee for breaking the agreement.  When there's no contract, you're free to do what you want.
Compare Carriers
There are plenty of carriers in the market.  It's silly to readily accept the contract price of just a few.  Find a plan that best suits your needs.  Use online tools to compare different carriers and the array of plans they offer.  So many people just head to their nearest supplier and accept the price and accompanying conditions.  Carriers prey on such docile actions.  Take control and compare prices.
Get a Prepaid Phone
Can you predict the future?  So, why should you adhere to a plan that tries to do it for you while making you pay the price?  Pay as you go and you'll likely save a lot of money.  You'll have to pay exactly for what you use, which will make you consider when using your phone.  It's likely that you never meet the allotted quota of minutes, data, or texts, since you'll have to pay a fee if you go over with a set plan.  Prepaid plans are not outdated.  You can use such for the latest phones and may get your hands on unlimited plans at a cheaper price.  Read thoughts supplied by Issa Asad for more ideas.
Use Apps
If you have a smartphone, download one of the many free texting apps.  You won't have to pay for texts.  You'll just have to pay for the data required to use the app.  If you text a lot and have a ceiling on how many you can send per month, a free texting app is a great way to avoid costly fees.
Negotiate the Price
Suppliers want you to believe that the price is not negotiable.  It makes things easier for them.  However, have you ever asked a supplier to lower the price?  Maybe you can remind them that there are more than a large number of alternatives out there and they should appreciate your business by allowing you to keep a few more dollars.  It's not guaranteed yet it's worth a try.
Call from a Computer
Technically, you don't need to pay anything to communicate with someone else from another town, city, or country.  You can take your computer to a library, coffeeshop, or anywhere with Wi-Fi, and use Skype or other free programs.  You can talk for as long as you want, and as long as they have Skype or the same program, can speak to whoever you want.
Keep a Watch on Roaming Charges
If you go outside a local area, you'll get hit with roaming charges.  If you're traveling overseas, it's likely a lot cheaper to get a prepaid phone since the roaming charges can get astronomical.  Check with your carrier to better understand roaming charges and where and when they apply.
Get a Cheaper Phone
Do you really need the latest iPhone?  Sure, it looks cool to have the latest iteration and feels good to be on the cutting edge, yet it comes with a heavy cost.  If you don't need all of the options of the latest phone, you can get a much cheaper model.  If you don't mind buying second hand, you can get a refurbished phone for a modest price.
Leverage Wi-Fi
Wi-Fi is just about everywhere- at the local coffeeshop, at your work, at the library, on the city streets, etc.  There are even apps that will help you find places that have Wi-Fi.  If you allocate your time well, you may never need to use your own data.  You can just leverage the Wi-Fi that is available in a wealth of nearby locations.
Issa Asad is an entrepreneur and senior sales executive with over 18+ years in the telecom industry and was one of the innovators behind electronic phone cards. Presently, Mr. Asad focuses on acquiring partnerships with telecommunications and technology companies in the South Florida area, specifically within the discount and prepaid wireless industry.