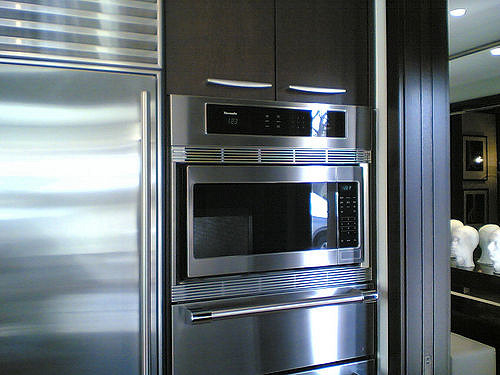 Appliances are expensive. And, if you don't have to replace them, you shouldn't. At the the same time, everything has its end. Here's how to extend your appliance's.
Getting More Out Of Your Dishwasher
Dishwashers are really convenient, but they've also become a necessity in some homes. They use less water than washing by hand, and they're more convenient, too. To get the water-saving benefits, only wash when the dishwasher is full and make sure you maintain it according to the manufacturer's specifications.
Check hoses for loose connections. If your dishwasher has a filter or trap for catching food, empty it on a regular basis. Wipe the gasket, edges, and underside of the door to keep the seal clean.
Inspect the bottom of your washer where the wastewater exists. If there's a buildup inside the drain, you'll need to take it apart and clean the inside. If you do have problems with the washer not washing or drying, it's probably best to call in a service tech, especially if it's under warranty. If it's out of warranty, it might still be a good idea to call a professional.
A Fridge That Goes Another Season
Refrigerators have a lifespan of between 10 and 15 years. But, that number varies by a lot depending on how well you take care of it. If you do buy a new fridge, make sure that you buy the right size for your home, and pay attention to the door swing (left vs right vs "French door"), the depth of the unit, and the orientation of the freezer (top vs bottom vs side).
Keep your fridge clean, and it should last a long time. Clean the interior shelving, and shell of your fridge every other month. Remove debris from the drain hole and drip tray of the unit, and unplug the fridge, pull it away from the wall, and clean the coils with a vacuum at least once or twice a year.
Dust on the coils will make your fridge work harder than it needs to, and decreases its efficiency. Finally, check the gaskets on a regular basis, wipe them down, and check the seal with a sheet of paper or a dollar bill.
Place the dollar bill in the seal and close it. Then, try to pull it out. If you can pull the bill out while the door is closed, then the seal isn't doing its job. You need to do a better job cleaning it or replace the seal.
More Garbage In Your Garbage Disposal
Garbage disposals are great to have when you don't want a compost pile in the backyard, and you don't want to throw away food (which is a great way to attract vermin and insects).
Local Appliance Repair can be called in whenever your unit is broken and won't do its job. But, for the most part, a disposal is self-cleaning and maintenance should be minimal. Installing one isn't difficult for most people, and they should last for between 10 and 12 years. You want to make sure you use running water for at least 20 seconds after you finish using it. Cold water is best if you're dumping grease down the drain, since it will cause the grease to solidify so the blades can chop it up before it gets to the trap.
Keep bones out of the disposal as they can dull the blades. Also, don't use any corrosive chemicals to clean the disposal as it may damage the unit.
Bleach may be OK once in awhile if you need to clean out the sink and want to get rid of odors that have built up. But, you should stick to more natural cleaners, or dish detergent.
Never put your fingers in the sink when the disposal is connected. If you must reach into the opening, disconnect the power running to the disposal first.
Cooking Another Meal On The Stove
Stove tops come in a variety of makes and models, including gas and electric ranges. Some units are rangetops only, while others are built-in ranges and stoves. Still others are stand-alone units.
Because they can vary so much, you'll need to consult your owner's manual for cleaning instructions. In general, you will want to keep the unit clean and run it through any self-cleaning cycle on a regular basis to remove debris, grease, and foodstuff that has built up on the inside of the oven.
Sucking Up More Fumes With Your Range Hood
Range hoods prevent your home from filling up with smoke and an assortment of nasty smells. It also eliminates, or reduces, the heat generated while cooking. There are several types of hoods including vented and non-vented hoods.
If you want to keep these things operational, you have to clean the filters and traps. That's essential. Also, keep that fan cleaned. For vented hoods, make sure you take the time to clean the outside vent, the interior fan and the filter that traps the grease.
For the most part, a range hood is self-serve. You won't need a professional to come in unless your fan stops working.
Jamie Holt is an electrician and is known as Mr DIY to his friends and family who are always asking him to fix things. He has recently taken to writing in his spare time, sharing his knowledge on a range of blogs.