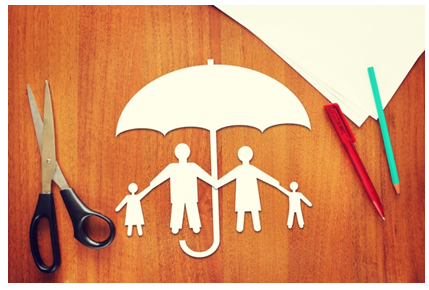 Insurance is something that people usually refrain from talking about as it can seem quite confusing, complicated, and at times, it can become tiresome. However, choosing the right type of insurance for yourself and your family is an important decision. You have a family, and you must protect them at all costs. You may have recently bought an alarm system for your house or placed deadbolts on your house doors. You have to protect your family from any type of mishap or incident.
Other than taking preventative measures, you can also sign up for different types of insurance policies that will help protect your family, whether it be financially or physically. Because of the increase in crime rate nowadays, insurance is a must for everyone. Imagine you bought a car by using your hard-earned money, and it got stolen, but you didn't have any type of insurance policy. Due to this, you didn't get any sort of reimbursement and lost all your hard-earned money, not to mention the car that your family used. If you are willing to protect your family from such a thing, then this article is for you. In this article, we are going to share with you some essential insurance types that you must consider for your family. These insurance types are listed as follows;
HEALTH INSURANCE
Health insurance is vital if you want to live a prosperous and long life. The most common type of health insurance that people should get is medical insurance. For example, if you develop a disease or contract a virus, the stay alone in the hospital could cost you hundreds of thousands of dollars. Or you had an accident and need money urgently to pay for your treatment. Not having any type of individual health coverage can be very detrimental for your health as well as your finances.
A good idea would be to get a medical insurance policy with a high deductible health plan. This type of plan will allow you to keep your monthly premium much lower compared to a standard medical insurance plan. Although, you will have to pay a few thousand dollars before your insurance comes into play.  You will be returned that few thousand dollars as soon as the insurance kicks in.
LIFE INSURANCE
The most important type of insurance you can get for your family is life insurance. Funerals occur only once, but replacing the income you were bringing in for your family would be hard to replace. Life insurance is going to help you with that.
Having an insurance policy that covers ten times your salary is the best solution. For example, if you earn 25,000 dollars a year, then you should have a term life insurance policy for 250,000 dollars. If your spouse earns 40,000 dollars a year, then they should have a term life insurance policy of 400,000 dollars. If one member of your family works and you have a child, it is still a good idea to have some sort of life insurance present. Because if you don't, and something happens to you, your family will have to emergency money to get back on their feet.
CAR INSURANCE
If you are someone who lives in the united states and owns a car, you should have car insurance. The majority of the states in the USA require you to have some sort of automobile insurance before you can even consider bringing your car on the road. The benefit of such a type of liability insurance is that it protects you from the liability of running your car into somebody else's car, resulting in severe damage. Having this type of insurance will allow you to avoid any headache as the insurance company will bear the cost of the damage.
Other than getting liability insurance, you should also get comprehensive coverage and collision insurance. This will allow you to stay protected when somebody else runs their car into yours, damaging your car.
HOMEOWNER'S OR RENTER'S INSURANCE
The next most important type of insurance that you can get for your family is the insurance of your home. If you are living on rent in somebody's house, renter's insurance is a must for you. The policy you get will not cover the structure of the house; however, it will cover all the belongings that you have inside the house. Due to this reason, it is inexpensive, and you must get one. You can get coverage around 20,000 dollars for a monthly premium of as little as 20 dollars. It is a type of policy that people do not consider, but it helps you out once something you own gets stolen from the place where you are living on rent.
Likewise, if you are a homeowner, you must get homeowner's insurance. That is if you are living on a mortgage. This type of insurance is a requirement from the mortgage company. It will give you coverage on the structure of the house, your belongings, as well as any construction costs that may incur while you remodel your home.
DISABILITY INSURANCE
Disability insurance is very close to life insurance. Although life insurance covers costs after someone dies, disability insurance gives you coverage when you experience a loss of income due to any type of disability that does not allow you to work. Some people prefer having disability insurance over life insurance as experiencing any form of disability also takes away your ability to work in the future.
Experiencing any type of disability will lead to medical bills and treatment costs, disability insurance will give you coverage on all such treatments and medical bills. Accidents can happen, which can lead to permanent disability or even death, so it is a good idea to get this type of insurance, even if you are not going to need it.
FINAL WORDS
Having insurance can be expensive, and it takes out a large portion of money from your overall budget. However, accidents can happen and be prepared allows you to stay away from a financial disaster. If you are working, you should probably ask your employer as they usually provide you with some sort of insurance. If your employer has not offered you one, go online and get quotes from several different insurance companies. Once you visit said companies, they will tell you what type of insurance you need the most. Today, we have shared with you the essential insurance types that you must consider for your family. So it is a good idea you consider them before you visit an insurance company.