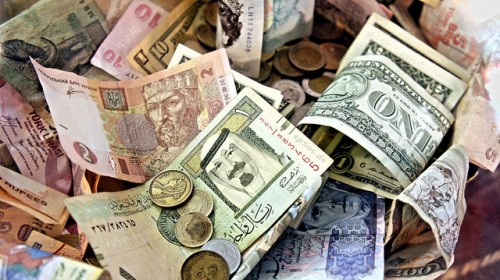 Whether you're booking a family holiday with tots too, buying a property abroad, receiving money from an overseas job, paying for your children to be educated at a prestigious foreign school or making regular transfers to relatives that live in a different part of the world – it makes sense to get your head around currency exchange.
While all those different figures and calculations might seem completely overwhelming, the concept is relatively straightforward and could save you money, so here are some of the most important facts.
What are foreign exchange rates?
You might have heard people talking about getting the best 'rates' for their hard-earned cash – especially if they're planning to travel abroad, but what exactly are foreign exchange rates? Well, in simple terms exchange rates are the value of one country's currency against another. The monetary value of each country's currency changes consistently, which is why people who work for forex companies are always keeping an eye on the exchange market.
If, for instance, you see a sterling-euro rate of 1.20 it means that £1 is worth €1.20, which is good news for anyone living in a European country (which uses the Euro) and being paid in pounds or Brits looking to travel to Europe in the near future. In fact, many Britons flocked to Europe in 2015 when the pound was extremely strong, with research revealing 44 per cent of UK consumers believe a good exchange rate is essential when searching for a holiday destination.
On the contrary, however, those travelling from a Euro-using country to Great Britain would not be overly thrilled of a 1.20 Euro-sterling rate as everything would be that much more costly – especially if they were paid in Euros.
What affects exchange rates?
As mentioned above, exchange rates change regularly – but what affects them? Well, firstly, the higher inflation rates are compared with other countries, the lower the exchange rate tends to be.
For instance, if the inflation rate in the United Kingdom is higher than that in Europe it will mean UK goods increase in price more rapidly than European products which is obviously not a highly attractive occurrence for traders. As a result, exports to Europe from the UK become less competitive and the demand for British goods decreases creating less demand for sterling. Makes sense when you look at it like that, doesn't it?
The debt of a particular country can also affect exchange rates, as can the relative strength of other currencies and any kind of government intervention. Rates can change daily and be completely different from one week to the next depending on many other complex factors, so it's crucial to keep an eye on rates and get the best deal possible if you need to exchange money.
Where should I get my currency changed?
Many people get their currency changed at a bank or even at the airport, but this isn't wise as you might be charge commission and be left with a fraction of what you should be given. With this in mind it is well worth checking out the Times Currency Services and other companies who will give you a better rate and help your money go further.
Currency exchange might seem tricky to understand, but once you know the basics things become a lot clearer.