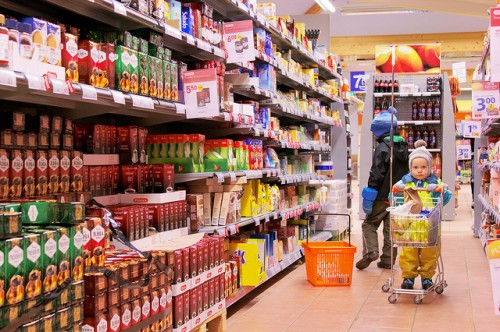 Shopping is an enthralling experience for kids. The colorful clothes of the latest trend to the bright colored pencil boxes can be a stimulating experience for kids, but parents can end up in paying more for the same. If you want to save few dollars from the shopping spree of the kids there are few habits that you can help your kids to develop. You need not make huge sacrifices to save money, but you can take small steps that are otherwise overlooked, to save few bucks. On your nest shopping spree with your kids, you need to start planning and speaking to your kids, prior to the actual endeavor.
Develop their habits first
With well laid plan budget and strategies, you can save money as well as time. Often shopping involves much of your time but with a list of items that you intend to buy, you can save some time. A list also avoids instances of forgetting few things and rushing back to the store again. Best part of having a list is that it also avoids the buyers from indulging into impulsive purchases. If you are planning to go for shopping with your kids and also save money, then you need to coordinate with them, teach them few strategies regarding the same.
— Prior to shopping, inform your kids regarding the purpose of shopping and make a list of items that you plan to buy. This gives them a clear picture regarding the things that they are supposed to buy and those they are not.
— In case, your kid is bent on buying a particular or a couple of items then ask them to name those. This will help you to assess the price of the same and then look for other options or its alternatives. By doing this, you can prevent yourself from overspending and also stops them from asking you something costly.
— If the kids want to buy any exclusive or special product, then let them pay from their kitty. Remind them that they can only buy something that fits their savings and budgets. Developing the habit of saving among children is important as the amount that they save on the piggy bank can be utilized for buying products of their choice. Utilizing their savings for purchasing can also help them to prepare budgets in the long run. If need for preparing the budget, you can help your children to look for the process of various products on the net first.
— Kids need to be responsible in handling money, so you need to give them time and space to decide the things that they want to buy. Give the freedom of spending the money as per their wish. After they are through with the process, you can speak with them regarding the same. This will make them responsible, as well as help them to understand the steps that they can take to save money.
— While preparing the list for the grocery items involve your children and let them write their favorite items. If they are too young and are unable to write, then you can do the same for them. Make the shopping spree an adventure for them, so that they can be involved in the process.
It is necessary for kids to understand the importance of budget and chalk out ways employing which they can stick to the same. Though you can come across different options for childrens clothing, you need to help your children to realize the ways through which they can stick to the list of items that they had pledged to purchase. Let them not be distracted with different items on the shelves but stick to the budget.
Author Bio: Melanie Walkers is the mother of two children. Through her blog, she has shared the habits that kids need to develop to save money while shopping childrens clothing, groceries, stationaries and likewise.