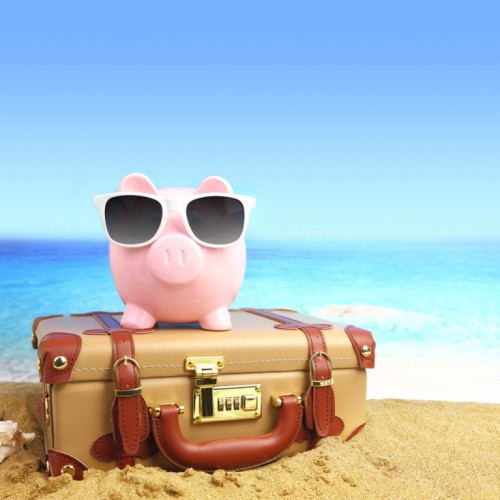 It's expensive, isn't it? Flying isn't as cheap as it used to be. With fuel costs rising, and everyone looking to get there now, now, now, you need ways to cut costs so that you don't go broke travelling. Here's how to slash your air travel costs and still get to your destination.
Skiplag Your Trip
There's a little-known flying hack that's catching on. And, you can get in now while the deals are still there. It's called "Skiplagged." It's a website founded by Aktarer Zaman that helps people find "hidden city" fares online through popular booking sites like Orbits and direct ticketing through airline websites.
Ever notice how some flights have multiple layovers? You start in your home city, and then stop in several cities before finally going on to your final destination. Ever stop to think about the pricing for those flights? A flight with 3 layovers is usually much cheaper than a flight with one. But, it should be the other way around, shouldn't it? You'd figure with the refueling, the stops, and so on, that the layovers would cost an airline money, but they don't.
And, this is what the Skiplagged site exploits.
It finds flights with layovers in target cities you want to be in and then helps you find tickets for those flights.
All of the flights booked this way are one-way.
So, for example, if you were traveling from NY to LA, you could buy a ticket for a plane ride that ended up somewhere in Alaska as long as one of the layovers was in LA.
You're basically taking the flight to one of the stops, getting off and not getting back on again. And, if you do this twice, you can effectively get to and from wherever you want to go – usually at a cheaper price than if you bought a regular "round trip" ticket, complete with time-wasting layovers.
It's not a practice the airlines like (except Southwest), but there's little these airlines can do, legally, to stop you from doing it.
Use Frequent Flyer Miles
If you're too scared to try the Skiplagged trick, you can eat up your frequent flyer miles and essentially get a free trip. There's nothing shady about it, and airlines actually encourage the practice.
Sites, like www.UpgradedPoints.com help you accumulate these miles, either through credit card purchases or through direct airline miles traveled. Always check the terms and conditions before you sign up for any frequent flyer program. You want to make sure there are no blackout dates, that there's no restrictions on how you use the miles, and that you're getting a decent and fair number of miles for every miles you fly.
Join The Club
Join an airline's gold or platinum membership to avoid getting dinged with add-on fees like fees for checked luggage. You will also get perks like upgraded seats. You can also upgrade to elite flyer status or "status challenge," which means that you fly so much that the airlines start throwing perks at you to encourage you to keep flying with them.
For example, American Airlines requires you only fly 25,000 miles a year with them to become a "gold" member. Once you get there, you don't have to deal with the usual boarding hassles, you get early boarding, free seat upgrades, and your standby fees are waived. The program does cost money, however – $250. But, you get lots and lots of perks and freebies.
Get Free Hotel Rooms
If your airline bumps you without your consent, then you have the right to receive an amount equal to $200 of your one-way fare. The limit is $650, but that's enough for a free hotel stay. If it's more than 2 hours later, or 400 hours internationally, then the airline has to give you double your money back. That translates into $400 one-way or $1,300 maximum.
Airlines hate paying our fees and penalties, which is where you can get leverage over them. Ask for upgrades and confirm a first-class seat. You could also ask to be rebooked on another airline or ask them to give you a hotel room and a meal voucher.
The thing is, you can get practically anything from the airlines. But, don't expect them to give up everything. Yes, you do have leverage, but usually you can only negotiate so much. So, think about what you'd want most. If you can make quick plans to stay overnight in a city you're trapped in because of a delay, a free hotel stay might be worth it. You could shack up in a nice hotel, get free food, and then enjoy a night on the town. And, for the most part, it won't cost you anything.
Elizabeth Steele has been working as an air stewardess for the last several years. She enjoys writing about flying and travel in general for relevant websites in her free time.