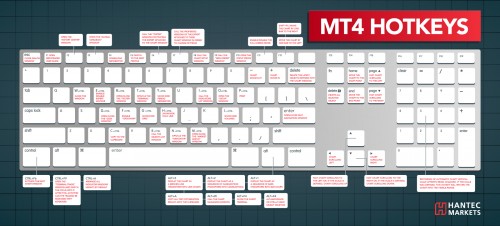 Resource : Click here for the full size version.
For centuries, Forex trading was something that was out of reach for most people. However, thanks to the technological improvements of these last two decades, trading currencies has become much easier to achieve. Indeed, anyone who possesses a computer and has access to the Internet can start trading online. All you need to do is to use a trading platform and you're good to go!
One of these platforms – and probably the most widely known one – is MetaTrader 4, often called MT4. Developed by MetaQuotes Software and released in 2005, MT4 is currently the leader in forex trading. The platform allows you, amongst other things, to analyse currency prices, to use automated trading techniques and, of course, to trade currencies.
MT4 is an application: all you need to do is to download it through an online broker. The good thing with MT4 is that it's easy to understand, but at the same time it also contains many advanced features. So whether you're new to the world of Forex trading or already have a lot of experience, MT4 will satisfy your needs and requirements.
For a long time, MT4 could only be used on PC but some brokers now provide MAC and mobile versions (iOS and Android) of the platform! Moreover, the software doesn't require many resources, which means that almost all computers can run it without having any troubles. In other words, it's easy to install, to run and to start trading!
Remember that, even if the basics are quite easy to learn, there is always room for improvement and the more familiar you get with the software, the bigger will be the benefits. We all know how essential it is to be able to respond swiftly to market changes in order to trade successfully. Check out this great infographic displaying MT4 hotkeys which will save you a great deal of time!